Updates
2009 June 15 update: Story added.
---
The following stories were written by Master Chief Jack Duncan, retired, who served as torpedoman on PT 103 from 1943 to 1944. Jack also served on PT 62 and PT 318 as well as the PTFs of the 'Nam era. He claims, without being refuted, to be the only WW II PT Boater to also have served on the PTFs. He has written these stories for his two grandchildren and has kindly shared them with us. Thank you Jack!
Master Chief Jack Duncan enjoying a well earned retirement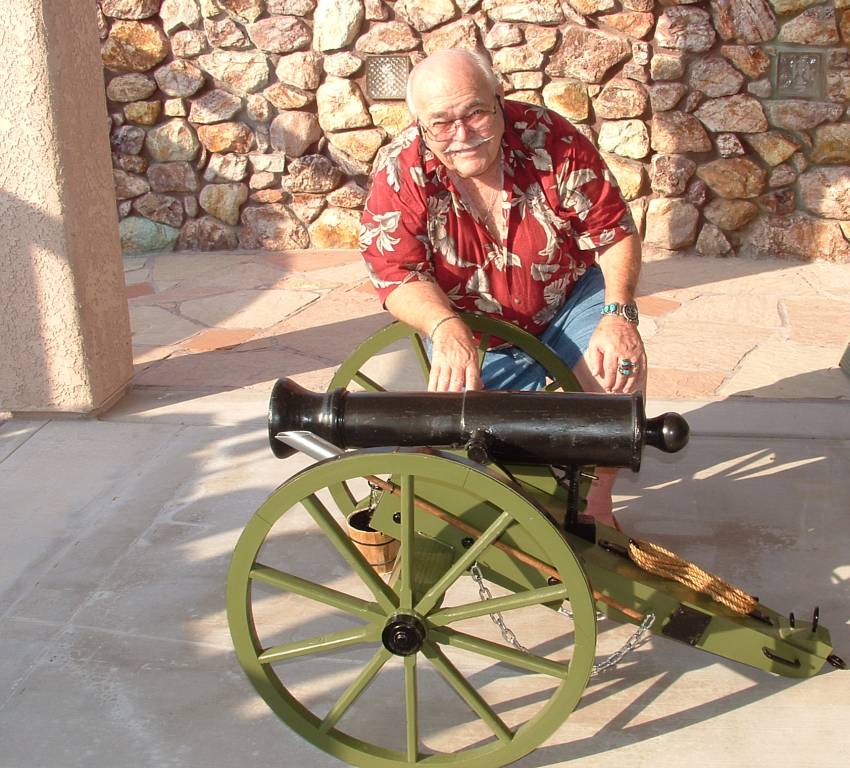 Another accomplished Duncan, Jack's wife Marlene with the NRA 2009 Marion P. Hammer Award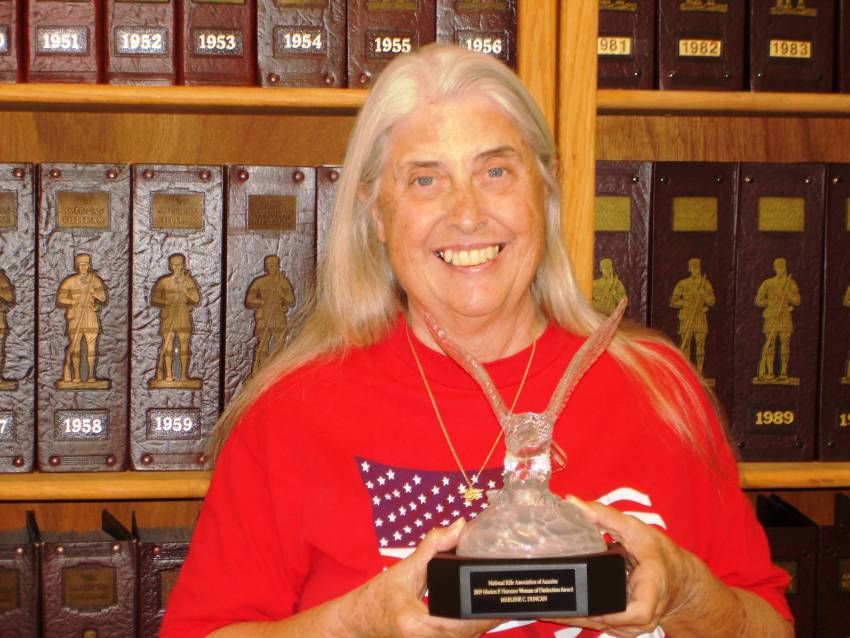 ---
*************************************************************
PREFACE
*************************************************************
Retired Master Chief Gunnerís Mate Jack Duncan, USNR, an active competitive rifleman into his seventies and an ardent student of shooting sports coaching into his eighties, has been urged to write these vignettes. They represent only some of his experiences gained during a lifetime as a shooter, as sort of a sailor, and a sometime hunter, but mostly just about a satisfying and adventurous life.
It is his intention to continue adding glimpses into his life as he thinks of things he considers of interest to others especially for his two grandchildren, Zack who was born in 2004 and Skyla who was born in 2006. He is leaving out such matters which are considered in poor taste to a civilian society. Combat is often brutal and offensive in print.
Sincere thanks are given to his beloved wife, Marlene, for listening to, reading, and suggesting changes to these vignettes.
His deepest appreciation is expressed to his dearest friend, Shannon Kurtz of San Diego, for her continued urging to put these experiences down on paper.
He did not intend these reminiscences for publication or even for wide distribution; merely for the enjoyment of his loved ones as the last chapters of his life unfold and perhaps beyond. Then, long-lost nephew James Shevlin and others coaxed him to consider compiling these vignettes into a book to help future generations to better understand the people of the Depression, World War II, and the Millennium.
Perhaps one day, The Many Mini Tales of an Old Dry Frog will come off the presses if he ever finishes writing. He claims that it is the story of his life and itís not yet over. He hopes you will enjoy the stories.
*************************************************************
OPEN LETTER TO ALL ORIGINAL PT BOATERS
AND ALYCE GUTHRIE, TOO
*************************************************************
Splinters and now even Slivers are standing the watch as we old coots who crewed the Mosquito Fleet disappear over the horizon in ever-growing numbers.
Retired Master Chief Gunnerís Mate Jack Duncan here. I was in one of the old Rons, Motor Torpedo Boat Squadron 5. I rode "Mosquito Boats" from Tulagi and Iron Bottom Sound all the way to Mios Woendi in the Dutch East Indies. That was back in 1943 to 1945. I was the torpedoman on the PT-103, the first of the Elco 80-footers; then the PT-62, an Elco 77-footer; and finally the PT-318. Ron 5 was decommissioned on February 15, 1945, at Mios Woendi and her remaining seven boats were transferred to other Rons.
I joined Ron 5 as a barely 18-year-old Torpedoman Third Class and left it as a Torpedoman Second Class. Iím proud to have been promoted to Petty Officer Third Class before turning eighteen. The "Mate" was added to the rating of Torpedoman years later around 1947 or about the time a SecNav took away our right-arm-rating badges or "crows."
I served much later as Command Master Chief of Coastal River Squadron ONE with collateral duty as Assistant Officer-in-Charge of variously the PTF-21, the PTF-22 and the PTF-26. This was a Reserve component assignment attached to an active Fleet unit as part of Special Warfare, Pacific. That service was from 1972 to 1976. I laid undisputed claim to be the only WW II PT Boater to serve in the ĎNam-era PTFs. The "F" stood for Fast.
By now, my aging contemporaries should be wondering about a torpedoman becoming a gunnerís mate. That was simple. On my return Stateside after a too-long first tour, I volunteered for a school in Florida mostly because it seemed like something different from riding little green boats. Besides, being a California boy, I had never been to Florida.
So, off to Fort Pierce and the Amphibious Base I went for a brief school before returning post haste to the Western Pacific (WestPac) as an Underwater Demolition Team (UDT) Swimmer - a Navy frogman. There are no torpedoes in UDT, subsequently named SEALs, so I changed my rating to Gunnerís Mate. The end of the conflict found me assigned to the Philippine Sea Frontier as a Navy policeman in war-ravaged Manila until 1946.
Well, I chose to stay in the USNR, was recalled to active duty four more times for a total of 18 years on active duty. I returned to WestPac several times - as a Special Warfare Reservist - back to the Philippines repeatedly, Korea, Japan, Hong Kong, Taiwan, Formosa Straits, even to Diego Garcia in the Indian Ocean. I was able to add Midway Island, Wake Island, Kwajalein, Eniwetok, Guam and Saipan to places visited and earned more ribbons during a couple of more wars. Remember the term "fruit salad?" They also hung on my chest the Trident or Budweiser or Flying Pickle Fork gold pin of a Navy SEAL in addition to the Combat Craft device and the large badge of a Command Master Chief. Cripes, I looked like a Russian General with a port list!
It was a great "part-time" career ending with a final tour of active duty as Pacific Fleet Subject Matter in Counter-Terrorism that led to a civilian teaching job at the Fleet Training Center in San Diego after retirement at age 60. I quit that paying job to become an unpaid rifle coach for Navy ROTC and JROTC units for 13 years, staying in uniform off and on for a total of 56 years.
I still stay active as the Arizona State Junior Co-Director for the Civilian Marksmanship Program mentoring to almost sixty JROTC rifle teams in three states assisted by my wife, Marlene. I also volunteer as a presenter for the Joe Foss Institute, giving addresses to students throughout Arizona, again helped out by Marlene. But, we old PT Boaters all know that we won WW II single-handedly. Our boats destroyed the entire Imperial Japanese Navy and we will always be the greatest - just ask us.
All is well in the desert and life is good even though my own children reside afar in Tennessee and Oregon, I stay in touch with many old shipmates on the computer. I know that our triple digit heat sounds too hot to breathe for most of you guys, but here in the desert with the humidity usually in the lower single digits "itís a dry heat." Air conditioning makes the cars cool, the house cool, shady patios make the outside livable and besides old bones relish the warmth.
Let us all know what you are doing, how you are doing and what you are planning. We geezers need to stay in touch - those of us who remain. And, above all, write down your memories of those days or speak into a tape recorder or allow some of the younger generation to interview you, drawing out those almost forgotten memories of yesteryear. When we go on our last patrol, the history of those times will go with us unless we do that - before itís too late.
Check the Website, www.thePT103.com, or have a grandkid do it for you for ideas to write down. It ainít bragginí, itís history.
Regards,
Jack Duncan
3941 Lunar Dr.
Lake Havasu City, AZ 86406
dryfrog@npgcable.com
*************************************************************
HOW THE NAVY TURNED ME INTO A WARRIOR
*************************************************************
Graduating from East Bakersfield High School in Bakersfield, California, before my 17th birthday, I had to wait a very long time before I turned that magical age of seventeen when the Navy would accept me. Actually, it was just a few weeks in the summer of 1942; however, joining the Navy to go fight Japs was foremost on my mind during the entire second half of my senior year of school; Pearl Harbor had been attacked on December 7, 1941.
Finally, on August 14, 1942, Chief Boatswainís Mate Frank B. Wilson who had been recalled to active duty as a recruiter completed my paperwork. Frank had retired in 1938 after 30 years in the Navy. He had joined in time to go around the world with Teddy Rooseveltís Great White Fleet in 1908. Frank was able to hang around long enough to present me with a medal proclaiming my 20th year in the Navy while I was on active duty.
By bus, I left that idyllic city of Bakersfield to become an Apprentice Seaman by dint of attending boot camp in San Diego. That began a series of cultural shocks for a young teenager starting with naked men standing in line to receive physical exams and shots, draw uniform clothing and take group showers, get locks shorn like sheep.
Barracks life followed. Chow lines. Marching and drilling with Springfield rifles. Rifle range with U.S. Rifles, M1917 "Enfields." Pistol range with Colt Aces. 20mm and .50 caliber anti-aircraft gun practice at Mission Beach. Having to perform acts of nature while seated on porcelain fixtures lined up in a long row without dividing privacy screens. Worse, no mama to clean those fixtures . . . we had to do that ourselves. Over a period of weeks, the Navy turned us from high school kids into warriors. Almost.
Given a choice of how we wanted to serve in the Navy, I asked to become a backseat gunner in a dive bomber. A test showed that I was too tone deaf to become an aviation radioman; therefore, torpedomanís school was to be my fate. In fact, everyone in my recruit unit whose name began with "D" was to be sent to torpedo school in Norfolk, Virginia . . . as if my choice of riding airplanes was ever to be considered in the first place.
A troop train pulled by a steam locomotive took us from San Diego down through the northern edges of Mexico, back into California and the breathtakingly beautiful Carrizo Gorge only roughly paralleling what is now Interstate 8. The many train tunnels on that desert journey were guarded by lonely-looking soldiers wearing old-style World War I "doughboy" helmets.
Reaching Naval Operating Base, Norfolk, grizzled Ancient Mariner-types of Chief Petty Officers were the torpedo school instructors. Many of them had enlisted during and before the Spanish-American War of 1898, but they turned me from a fuzzy-faced kid just out of high school into a fuzzy-faced Torpedoman Third Class. I was a Navy Petty Officer at the age of seventeen. Was I now a warrior? Not yet!
As a graduate in the top three of my class, I got to choose my next assignment; for real this time. I opted for Motor Torpedo Boats, those glamorous PT Boats instead of the mundane, gray-painted, stodgy destroyer-escorts or the smelly, cramped diesel submarines. It was a choice I never regretted.
Now, there was some erroneous flap over possibly having to be at least 21 years old to serve on one of these boats, known for being "expendable." That proved false as did the rumor that PT Boaters were to receive hazardous duty pay for riding to war on a small wooden boat.
Boarding another steam train en route to Melville, Rhode Island, I was going to the Motor Torpedo Boat Squadrons Training Center. This school was to be two months in duration to teach us the ins-and-outs of these tiny, seventy-seven to eighty-foot, fast, plywood warships.
With a tiny crew of only a dozen to a dozen and half sailors on each boat, every one of us had to know the othersí jobs; how to fire the torpedoes, how to shoot and maintain the many guns, signaling, how to start the engines, communicate on the radios, how to do dead-reckoning navigation plus ship and aircraft recognition. Cross-training was absolutely vital in case of casualties because we were going in harmís way. Upon completion of that school would I be a warrior? I believed so!
Soon, we newly-designated PT Boat sailors sewed our identifying patches on our sleeves and left Rhode Island, again, by train, traveling up into Canada and down through Michigan bound for California. (Gee, I had been in two foreign countries already!) Arriving at Treasure Island in the middle of San Francisco Bay by ferry after detraining in Oakland, I was assigned Shore Patrol duty at the WAVES barracks in downtown San Francisco. My duties involved not only guarding the entrance, but having to check the appearance of the women before they left the building for their various work assignments in offices. This included ensuring that the seams of their stockings were straight (seamless stockings or panty-hose had yet to be invented), their slips were not showing and their uniforms in general were being worn correctly.
For a more mature sailor, this would have been a great job as I look back on it, but here I was just a little kid, really, not sure what girls were . . . and these were much older women in their late teens and early twenties, anyway.
It was a different time and a different morality.
Alas, the assignment lasted only a very few days until a ship arrived to take me toward the fighting where I really might become a warrior at last.
It was during this week or so interlude that I visited the only U.S.O. I ever went to. I met a pretty girl there. "Beverly" was a little older than I. She accepted my invitation to dinner at the famous Mardikianís, a posh Armenian restaurant recommended by my much older and much traveled sister. After dinner, this young beauty took me to her grandmotherís house where she was living and offered herself to me. I didnít have the foggiest idea of what to do or how to do it, so to avoid the unknown and perhaps gross embarrassment, pleaded that I had to return to Treasure Island. The VD movies I had to endure were not specific in exactly what it was that led you to get VD. It was a different time and a different morality.
Iíd been through boot camp, torpedo school and motor torpedo boat school. This was in mid-1943 with World War II raging on many fronts. I was already a third class petty officer before the age of 18.
Within a couple of days, a "draft" or list of people was posted for departure. An old steam ferry took us from Treasure Island to a pier on the San Francisco waterfront where we embarked on a former Dutch ocean liner now converted into a troopship. As she sailed out of the Golden Gate, she began to rock and didnít stop for the entire voyage that we sailed unescorted . . . never sighting land.
Below decks the bunks were stacked perhaps five to seven high as my memory recalls, but it was so malodorous of unwashed bodies and a multitude of other "fragrances" that I couldnít endure the stench. Please understand there was no fresh water in which to shower and a salt water shower was shunned by most due to the unsanitary . . . even more than unsanitary . . . conditions of the shower stalls. Underarm deodorant spray cans had not been invented in 1943.
As a torpedoman knowledgeable in ordnance I was assigned a lookout watch on a 20mm gun high up on the superstructure. I decided to sleep at the gun, rain, shine or cold rather than try to sleep in the stinking hold. The ship was a huge liner, but she did roll incessantly. Most of the passengers were soldiers who stayed seasick, adding vomit to the stench below decks.
Besides the aforementioned nasty showers, the toilets were steel troughs with salt water running through them constantly . . . like a creek . . . to carry off the waste. Two pieces of black painted wood spanning the trough every couple of feet served as seats. No partitions, no privacy and the decks were always awash with water from some source or another. It smelled like "another."
Troopships were a miserable way to travel. Troop trains were likewise a miserable way to travel. Todayís military personnel fly to war and complain about the "airline food" of box lunches. It took at least five days, usually more, to cross the continent on a troop train with only two meals a day, eaten standing, and no sleeper cars or showers. It took most of a month to cross the Pacific on a stinking overcrowded ship. I was ruing my wish to become a warrior.
Indeed, it was a different time . . . a different morality!
We had no idea of our route, but zigzagging at high speed, the ship took us so far south that we got into some pretty cool and wet weather before arriving at the French tropical island possession of New Caledonia.
Somewhere along the way, I had my 18th birthday. I guess the lack of a party or celebration of some kind made me forget all about it.
As the big ship slipped into the beautiful harbor at the port of Noumea through the gorgeous teal waters inside the coral reef, we spotted a gargantuan billboard-type sign draped across the hills. It was reminiscent of the Hollywood sign and reading: "KILL JAPS, KILL MORE JAPS, KILL THE YELLOW BASTARDS - Admiral Halsey"
We had arrived at the war, but was I a warrior? Not quite.
Disembarking after that long transit, the few of us passengers who were future PT Boat crewmen were issued combat gear . . . what? OK, picture this! A small-statured, 135-pound barely 18-year-old carrying a white seabag full of uniforms, a ditty bag with shaving gear, a bucket in which to wash clothes, with a hammock, mattress, blankets and a pillow lashed around it. That was a full load, but now in addition we were issued green herringbone fatigue uniforms, helmet, combat pack, bayonet, combat boots, ammo belt, aluminum mess kit, canteen and cup . . . all the equipment an infantryman carried including a Springfield, a U.S. Rifle, Cal..30, M1903A3! The serial number, once memorized, has long-disappeared from my memory, but the date of manufacture of 4/43 stamped on the barrel somehow has lingered on within my recollections.
Visualize this scrawny kid already staggering under the weight of that seabag and hammock now further burdened with all the gear a Marine might carry! Every relocation movement meant two trips.
Of course, the inevitable rumors spread that there was much trouble "up the Line," meaning up in the Solomon Islands to the north. All available manpower (or was it mostly boypower?) was needed to resist the inexorable onslaught of the Japs.
These rumors were reinforced when the bunch of us trained but untested PT Boat sailors were embarked on an LCI or Landing Craft-Infantry and departed for "the Line" with our combat gear and rifles. The rumor was definitely confirmed when the LCI after another not-so-long voyage of just a couple of days anchored off Lunga Point on Guadalcanal. We had no way of knowing that the island had long-since been secured.
"They canít do this to us, can they?"
"Weíre gonna reinforce the Marines!"
"Do we know enough about Landing Party Manual stuff to fight on land?"
So went the talk on this tiny ship loaded with bewildered kids. Suddenly the LCI upped anchor and headed across Iron Bottom Sound for Tulagi, the major PT Boat base in the South Pacific. We disembarked at the camp named Calvertville where we were issued tents and machetes; cots and mosquito nets. Someone pointed inland and told the next four of us in line to set up a tent in the raw jungle after clearing a spot in the rain forest . . . of course, it was raining, why do you think they call it a rain forest? Mud, mud, mud!
After getting settled into my new jungle home so vastly different from Bakersfield, the culture shocks continued. The smell of rotting vegetation. The stifling humidity and muggy heat. The muffled racket of various insects. The four of us tent-mates got to spend one night in the eerie, pitch-black jungle where the strangeness kept us awake and talking. Finally, when fatigue forced us to turn-in, a pepe, a huge and of course reportedly poisonous millipede had taken up residence on my cot. It was a restless night as I wondered what else might join me.
Morning came. A scroungy-looking ensign slogged his way through the mud and yelled my name.
"Iím Mr. Green, skipper of the PT-103, and youíre my new torpedoman. Letís go!"
So, after being rescued from what we believed might have been infantry duty, spending the night in a rain forest, Iím finally on my way to a PT Boat for which all of my training had prepared me. Was I finally a warrior?
"Letís go?" Cripes, I have to repack all of this stuff . . . mattress, hammock, seabag, combat gear, rifle. Itís going to take awhile. Ensign Green not only waited, but helped me assemble all of my stuff. He carried some of my precious belongings as we made our way down to the piers where we hopped on a re-arm small boat to motor up the river a mile or so.
The PT-103 was tied up under some trees lining the bank out of sight from any marauding Jap planes. The eighty-foot Elco PT, the first of hundreds built of her class, looked awesome in her green paint so she could blend into the shorelines along which she was designed to patrol. All of her guns were uncovered. This was not a training PT, this was a warship. The PT-103 was the lead boat of Motor Torpedo Squadron 5, I would later discover. To digress, Ron 5 as the squadron was called, consisted of the following twelve boats: 103, 104, 105, 106, 107, 108, 318 and 319, all eighty footers and four older seventy-seven footers, 62, 63, 64 and 65.
The re-arm boat pulled gingerly alongside, rubbing its soft, kapok-lined gunwale against the fragile, plywood side of the PT. The familiar, pleasantly sweet smell of 100-octane aviation gasoline was emanating from her hull. Some old guys (in their mid-20s - they were that old!) reached down to help me heave my cargo up on deck before hoisting me up. I had arrived at the war and now I was a warrior . . . . . . . . perhaps?
As they helped me clamber aboard, a sailor I would soon learn was Gunnerís Mate Second Class Woodrow Wilson Hobbs, asked, "Where did you get all this stuff?"
Before I could answer, several of the crew, shirtless and wearing only shorts and sandals in the oppressive tropical heat, welcomed me by beginning to throw my precious gear overboard into the river. Hammock, ammo belt, mattress, bayonet, rifle . . . RIFLE?
All of my Stateside training had prepared me for operating a PT Boat, not for living aboard one. PT Boats were small, fast, heavily-armed; carrying any more weight that was absolutely necessary was not to be tolerated. Weight meant diminished speed. Speed and the dark of night was their main defense, other than the ĺ of an inch of doubled mahogany of which their hulls were constructed. So, my combat gear that had been such a burden to me went into the drink . . . BUT THE RIFLE?
"Yeah, weíve got too many rifles on board now. What we really need is more machine guns," said Hobby, as he soon would become known as he became my mentor.
He began to introduce me to the rest of the crew: The crew chief Quartermaster First Class Wilson, who was soon to be promoted to Chief Quartermaster; Radarman Third Class John Sportsman; Motor Machinistís Mates Second Class Housel and Melson; Gunnerís Mate Third Class Tillman; Motor Machinistís Mate First Class Lowell; Radioman Third Class Hinkle and others.
Here I was, a very young Reservist, fresh from training, not long out of Miss Mary Virginia Owenís home room, becoming part of a crew of "old," pre-war Regulars. This was a combat-hardened bunch that had already fought tough battles against the Imperial Japanese Navy. Was I, too, now a warrior? Maybe!
But, about that rifle! Somewhere up the river from what is now the small village of Saspe in the Solomon Islands lays my M1903A3 rifle. I never even got to shoot it
Slim Tillman, the lanky ex-farmer from Georgia, came over to me, "Here is a new gun for you to carry, handle and keep clean. Give it to me every week or so for inspection."
That M1928A1 Thompson "Tommy Gun" became my best friend and we even slept together until a Jap machine gunner hit it and destroyed it. My rifle; I didnít really need a Springfield bolt-action rifle designed just after the beginning of the Twentieth Century.
Upon being shown about the boat, I discovered that we had a single-shot 37mm anti-tank gun on the very tip of the bow; a .30-06 Lewis machine gun left over from World War I on the foredeck; two twin-.50 caliber machine guns in turrets and a 20mm Oerlikon on the stern.
The four torpedo tubes that were now under my aegis could launch the four ancient Mark VIII steam torpedoes by dint of black powder charges literally blowing the torpedoes overboard. The newest of my tin fish was manufactured in 1919. I also had two Mark III depth charges and an Elco smoke screen generator under my purview.
During a couple of air raids at Tulagi from high flying bombers that our guns could not reach, I began the first experience of actual war.
After a couple of days of working on the boat, we got underway for Rendova Island, operating from there for a few weeks, then on up to the Treasury Islands of Mono and Stirling and Cape Torokina on Bougainville for some months. We were involved in serious surface combat and aggressive Jap air raids now. At last, I was a warrior!
We kept changing our ordnance as we elbowed our way on up through the Solomons. The Home Front products of war had begun to arrive in the Asiatic-Pacific Theater as 1943 blended into 1944, becoming a stream as 1944 morphed into 1945.
Our three 1,000 gallon aluminum gas tanks were replaced by self-sealing ones to ameliorate the problem of PTs exploding in flames when enemy bullets hit their gas tanks, then armor plate was added to the sides of the hull to protect those tanks. More powerful engines were to offset the weight gained.
My antiquated, heavy, and slow World War I torpedoes in tubes were replaced by newer, faster, lighter Mark 13 aircraft torpedoes that were released from side-launching racks. We replaced the old Lewis gun with an Oerlikon on the foredeck and the single-shot 37mm with an automatic 37mm cannon purloined from a P-39 Airacobra fighter plane. Our stern 20mm was replaced with a 40mm Bofors cannon. Our three 1350hp engines were exchanged for three 1550hp newer Packards.
After Bougainville, we next attacked Green Island to set up an operating base before invading Emirau in the St. Matthias Group where we settled in for several months as a northern blockading force for the major Jap bases of Kavieng on New Ireland and Rabaul on New Britain.
At Emirau I had my 19th birthday and a promotion to Torpedoman Second Class followed almost immediately. I was a very young warrior now with three battle stars for major campaigns.
The action seen from all of those bases ranged from hectic and furious to mundane and boring. I requested a transfer from the 103 to the Elco 77-footer, PT-62. With her loss as a result of an indirect action with a shore battery at Kavieng, I was transferred to the PT-318.
We sallied forth from Emirau late in 1944, November or December, with our seven remaining boats, having lost five due to fires and just plain fatigue from intense operations. Ron 5ís first stop was at Manus in the Admiralitys, then Hollandia in New Guinea, finally Mios Woendi in the Dutch East Indies (Indonesia).
Eventually, after almost two years overseas and much combat, I returned to the States. I was offered an option to volunteer for a school in Fort Pierce, Florida, called Underwater Demolition Team Training to try a new type of service different from the small, green, plywood "Mosquito Boats."
President Franklin Delano Roosevelt died. The unknown Harry S. Truman was now our Commander-in-Chief. The war was winding down with our troops on Okinawa, a Japanese island, where the fighting was furious as the Allies were now on the Homeland of Nippon.
Within about four weeks of learning how to set demolition charges, deploy smoke and tear gas pots, chart shallow waters plus a whole whirlwind of such things, I was pronounced a Combat Demolition Swimmer, a bona fide Navy frogman, and en route to the Philippines. The island of Samar received our small specialized unit that was studying and training to hit the beaches of Japan before D-Day to allow the invasion forces to land.
Truman authorized the use of the atomic bombs, Japan surrendered. With the ending of the fighting, next came an assignment for us now-unemployed frogs as military policemen in the demolished city of Manila. As 1945 blended into 1946, my war was not yet over as we Naval policemen guarded gates, patrolled neighborhoods and kept the Hukkbalahap Communists, the Jap military hold-outs and the ubiquitous criminal black-marketeers at bay. Just before mid-year of 1946, it was my turn to leave for the U.S. I had spent three Christmas seasons overseas.
I returned Stateside to reenlist, to get married, then assigned as an instructor in Naval Ordnance and Gunnery and Small Unit Tactics until the Navy once again sent me to war in Korea to earn two more battle stars while getting shot at by an enemy force.
Thatís the story of how the Navy converted this one teenager into a warrior, although I didnít know at the time that it was just the beginning of a long, fun, enjoyable and profitable noble career.
I never dreamed of staying in uniform until just short of the Twenty-First Century, but that was to be as I retired in 1985 only to become a volunteer rifle coach with Navy scholastic units . . . in uniform still, until 1998. That was a total of 56 years.
It was truly a different time . . . a different morality.
Epilogue: There in my gun safe today is an almost mint condition U.S. Rifle, Cal..30, M1903A3 with the date of 4/43 stamped on the barrel, along with the antique type bayonet that came with it. I acquired the set somewhere; I donít even remember where, but the two items replace this warriorís first-ever issued weapons.
*************************************************************
A NUTTY CAREER
*************************************************************
Hereís the way it began: Having ridden an Elco, wooden-hulled, 80-foot PT Boat thousands of miles across open ocean all the way from Tulagi in the Solomon Islands to the Schouten Islands in what is now Indonesia, some command somewhere decided I had had enough for now. It had been almost two years since I had seen civilization. It was time to send me home. I was now 19-years-old and a seasoned Torpedoman Second Class.
Coming back Stateside on a Dutch freighter turned troopship, I was bitching/bragging about being overseas just short of two years. Some 24th or maybe 25th Division soldiers who had been stationed in Hawaii on December 7, 1941, remarked that they had not been home for more than four years! That put me in my place! Of course, they had been rotated to New Zealand and/or Australia for R & R, rest and recreation, while we PT Boat crewmen of Motor Torpedo Boat Squadron 5 had never had that pleasure. We hadnít seen anything but new tropical islands to invade the entire time overseas and not one city or town.
We had experienced eyeball-to-eyeball combat up close and personal during our island-hopping, leaving me forever an advocate of sailors being trained as warriors and not just man-of-warsmen; skilled in the use of hands, feet and weaponry of all types.
So, thirty days leave, a train ride to the Motor Torpedo Boat Squadrons Training Center at Melville, Rhode Island, and we just knew that we combat veterans would become instructors. We didnít even get off the train, but we were shuttled up to Receiving Station Fargo Barracks in Boston FFT "for further transfer."
A few days of shore patrol in Boston Commons, a few days dismantling some old Mark VIII torpedoes at Naval Air Station, Squantum, Massachusetts, and we were back on a train en route for Receiving Station Camp Shoemaker in Pleasanton, California.
A couple of days later we were being "classified" as - yep! - "PT Boat qualified" (imagine that) and we were to await immediate shipment back to the Pacific Wars. My buddy, Charlie Waltman a torpedoman from a dis-remembered Higgins PT Boat squadron, and I asked to be sent to a school.
"Ah, we have a school if you can swim 400 yards and will volunteer."
"We can swim a lot more than 400 yards, but volunteer for what and whereís the school?"
"Underwater Demolition Team training in Florida."
We allowed that we had never been to Florida and that sounded good.
"Whatís an Underwater Demolition Team?"
"We understand that itís clearing captured harbors of mines."
Well, Charlie and I decided that inasmuch as we had been capturing harbors that sounded great. We volunteered and were rapidly whisked to Fort Pierce, Florida. Arriving at the Amphibious Base there by train, we were sent into a building, changed into swim trunks and were taken by boat a mile or so out to sea. Told to swim ashore, we had no problem. Many did not make it, being picked up, taken to shore and we never saw them again.
Charlie and I next went to a small auditorium where we were briefed on UDT. We learned that Lieutenant Commander Draper Kauffman was the "father of UDT" after having served in the Royal Navy with such a unit. We found out that a similar outfit took 60% casualties at Normandy where they had not been employed properly as trained. One old high school classmate, Sid Ricards, had survived Normandy as a Naval Combat Demolition Swimmer, another name for UDT. We found out that Pacific UDTs were having great success and fewer casualties.
Too late to back out, we were told that our new job was to swim ashore to blow up obstacles and otherwise "prepare the beach" a couple of days prior to Marines landing on a hostile beach. We were to be "armed" with a knife, forty pounds of C-2 plastique explosive in a chest and backpack and a 100-yards of Primacord wrapped around our waists. We were to be uniformed in swim trunks, a face mask and swim fins.
Some quick training in setting explosives, getting "inserted" by jumping from a landing craft, being plucked or "retrievedí out of the water by a fast boat and a loop of rubber, tying knots in Primacord, pulling igniters and Charlie and I got separated. I was to become a Scout and Raider. Charlie was to stay UDT.
Suddenly, I was issued a yellow card declaring that I was a Combat Demolition Swimmer and sent forth from Fort Pierce on a train back to Camp Shoemaker. Wow! The train was made up of compartment cars with two men to a compartment and a diner. Not your normal troop train with cattle car coaches and we flew over the tracks like an express train.
Whoops! I was now in Stokes Platoon, whatever that was and rumors were flying about why the plush treatment.
Arriving at Camp Shoemaker we were assigned to an empty barracks, the whole trainload of frogmen. Swaggering around like the celebrities we were being treated as, our bubble burst when an old Regular Navy Chief, based at Shoemaker, ordered us to turn to in the chow hall for mess duty.
Wait! We were all Petty Officers, we were all combat veterans, we were UDT Frogmen! We were not supposed to do mess duty, but were assured that no Seamen were available, so petty officers had to be pressed into service. We grudgingly began to serve on the chow line - until a bunch of Ordnance Battalion Seamen came through the line with their mess trays. The Ordnance Battalion was formed of Blacks who served as stevedores loading and unloading ammunition ships. This was 1945 and Blacks were Negroes or worse. Neither the nation nor the Navy was integrated.
Well, we petty officers seeing a plethora of Seamen, laid down our serving spoons en masse and retired to our barracks. The Chief ranted and raved and was told to shove it. We were restricted to our barracks.
That night, we dismantled the barracks into the street. Bunks were taken apart and laid out for inspection. Lavatories were lined up in a row. We broke nothing, but field-stripped the entire building.
The next morning, busses arrived, taking us to San Francisco where a troop transport was being loaded. Iím sure most of Shoemakerís administrative personnel just wanted those "nutty sailors" off their base in order to prevent apoplexy. This was my first indication that blue water sailors and their ship-driving or airplane-piloting officers believed that anyone who would eschew three "hots and a cot" on a ship for swimming, packing a rifle and wiggling in the mud simply could not be sane or stable.
A Navy troopship, built as a troopship, not a converted freighter, delivered me to Samar Island in the Philippines. I got to visit the adjacent PT Base 17 where I went aboard my beloved, old PT-103 for a reminiscent visit.
The word was out that Stokes Platoon was scheduled to swim onto a beach somewhere in Japan eight days before the invasion to "prepare the beach" for the assault troops to land safely. We neither knew where nor when nor even if.
President Truman popped a couple of atom bombs ending World War II and we were assigned to Navy 3142, Anchor Detail. A Torpedoman Second Class knows nothing about anchoring ships, so what was this assignment?
With the war ending, we found out that we were going to be assigned to Manila for duty with Commander Philippine Sea Frontier. Anchor Detail it turned out was a Navy police force for war-ravaged Manila. The city had been all-but-destroyed during the liberation and was infested with Japanese military hold-outs who refused to surrender, the Maoist Hukkbalahap Communist guerrillas and the looters and black marketeers of the criminal element.
And who was the Commander, Philippine Sea Frontier? Vice Admiral James "Reggie" Kauffman, Draper Kauffmanís father! He had wanted his sonís Navy "frogs" to be his police force, to guard the headquarters compound, his plush villa and patrol the neighborhoods or barrios to suppress violent activity. He was probably the last of the higher ranking officers who didnít believe that "frogs" who eventually became known as SEALs or Special Warfare sailors were more than slightly off center.
Behind-his-back Admiral Kaufman went by the moniker of "Reggie." I suspect it was invented due to his lavish living. He liked his "frogs," though, often visiting with us from the back seat of his limousine or sending us coffee and pastries.
From those days forward, Fleet and Naval Aviator officers always looked at me askance, as if I were carrying the plague or something. Especially when I continually harped, writing point papers about all sailors learning the long-defunct Landing Force Manual and the Landing Party Manual that preceded it, wanting every sailor regardless of his Navy job to know how to fight on land - small arms, small unit tactics. There was usually some lone officer who thought the same way, but we remained pariahs and not quite normal in the eyes of most officers.
Now the last such Fleet officer with whom I had contact who believed in the insanity associated with being a SEAL was the new commanding officer of the San Diego Unit of the NROTC. He was a Captain and a Naval Aviator.
In retirement, Marlene and I were coaching the rifle and pistol teams of the unit. Not only were we volunteering, but we were furnishing much equipment. Appalled that his Midshipmen were engaging in an interscholastic league in the shooting sports with real guns, he immediately called us into his office to fire us forthwith; first, however, he called Chief Gunnerís Mate Jim McReynolds, in charge of the Naval Training Center Range where the teams practiced. He asked Chief Mac if Master Chief Duncan was stable before he told us we were out of a job. Understand the depth of the insanity beliefs?
Jim, Marlene and I got a giant kick out of that. Just to make sure that his career was soon over, I put in a call to a Deputy Assistant Secretary of the Navy, one of my protťgťs when he had been a junior officer. I told him what the Captain had done to his volunteer retired Master Chief. I was assured that this was the Captainís twilight tour and he would be retiring, not making Admiral.
We took the twenty smallbore target rifles we had purchased out of our own pockets and "left the building" only to be "hired" by the Navy Junior ROTC at a nearby high school to continue our volunteer coaching avocation.
Some sixteen years later, Special Warfare has acquired an Admiral as a Bureau sponsor, is much lauded and seen as vital. Some of the Midshipmen of the college team, now 0-4s and 0-5s still communicate via e-mail to their old coaches.
The Captain whose name is not remembered as anyone worth knowing is probably selling real estate or insurance.
The nutty career afforded me a lot of fun and some marvelous adventures.
*************************************************************
A LEAP INTO LEAPYEAR
*************************************************************
It was a dark and stormy night - no, it really was! February 29, 1944, as I remember, at New Britain Island at the huge, key Japanese base at Rabaul.
The saga begins down at the PT Boat Base (was it Nine?) on Stirling Island in the Treasurys off the southwest coast of Bougainville where we received our briefing. We had returned there following our invasion of Green Island, north of Buka. Below deck in the crewís quarters the skipper of the PT-103 laid out the charts of Simpson Harbor at Rabaul and told us we were going in. It might have been the aloof and taciturn Ensign Ockerman, a Kentuckian, who was our skipper at this time, but the memory is not strong enough to wage money on it. We were to remove everything off the boat that was of value to us, because the boat probably would not be returning.
Remember, "We were expendable!" We were to be sacrificed to draw fire away from the lead boat, the PT-319.
(Why the hell did I feel euphoria and as one of the "chosen?" Youth?)
Revered Commander (later Admiral) Specht, the boss of the Motor Torpedo Boat Squadrons Training Center in Melville, R.I., was to be the leader of this raid. He would be riding the 319, having flown out from the States especially to take us deeper "into harmís way" by dint of entering the inner harbor of Japanís principal South Pacific bastion.
First, we had to leave idyllic, but waterless Green Island and go back down to Treasury to prepare for this raid, to get briefed on what we were to accomplish and how. We had to strip the boat of everything not necessary to fight the boat, perform routine maintenance on the torpedoes at a tender (it may have been the Portunis?) to make sure theyíd work properly, overhaul all of the guns, load float flares to drop over the side as diversions, unload our personal gear, fine tune the three twelve-cylinder Packard 4M2500 engines each pulling 1500 horsepower while drinking a total of 420 gallons of aviation gasoline an hour at top speed.
We were shown on the charts where the five Jap radar stations guarding Blanche Bay were sited. The skipper pinpointed the twenty shore batteries made up of 4.7-inch and 6-inch guns which lined the five-mile gauntlet we had to negotiate to enter Simpson Harbor. He showed us the location of the anti-submarine torpedo nets we were somehow to crash to enter the inner sanctum in order to torpedo the Jap transports inside. They were supposedly evacuating some of the trapped one hundred thousand Jap troops at the base.
All of the PT squadrons in the area were to strafe nearby beaches and generally raise hell in support of our raid. The New Britain and Green Island-based PT Squadrons as well as Commander Arleigh "31-knot" Burkeís destroyer squadron would try to attract the Japís attention so they would not notice that three PTs were entering their front door. Burke would later become the Chief of Naval Operations and a four-star Admiral.
We would go back up to Green, refuel and rest, then head for Rabaul.
The PT-319 of Ron Five would lead the group which would travel in single file and carry Commander Specht. My boat, the PT-103 also of Ron Five, would be the second boat with Ron Nineís PT-161 bringing up the rear.
As an 18 Ĺ-year-old Torpedoman Third Class, I was interested only in what I was to do. As an octogenarian trying to dredge up memories fogged by a lifetime of adventures, I wish I had paid more attention to what others were to do. I do know that I was a key player in the scenario; at least my four Mark 13 aircraft torpedoes each packing six hundred pounds of TNT were.
The three boats were to sneak in under cover of a dark moon, crash the nets protecting the harbor from submarines, torpedo the transports and attempt to escape at high speed. We would start when the harbor would be illuminated by Army Air Corps B-25 bombers from Green Island dropping flares exactly at midnight.
If the Japs opened fire, the 161 was to attract attention to herself first and sacrifice herself. If the opposition got more intense, then the 103 next was to drop float flares, lay smoke and try to draw all of the fire.
The 319 and our beloved Commander Specht was to escape at all costs.
When the 161 and 103 were put out of action, we surviving crewmen were to swim to mid-channel and remain there. PBY Catalina flying boats called "Dumbos" would spot us if we would fire two tracers from our .45 pistols. They would land and rescue us. Nice plan.
My personal preparation was to load fifty rounds of ball .45 and fifty rounds of tracer .45 into my life jacket along with several cans of pemmican and two canteens of water. My pistol was wrapped in a special plastic bag issued for that purpose. When the 103 was blown out of the water, Iíd survive, swim out to mid-channel and simply wait for my plane ride while bobbing up and down in my kapok life jacket. No big deal. Piece of cake.
Well, after running up from Treasury, we sallied forth from Green during a mild storm with the spits of rain only a harbinger of what was waiting for us. We rounded Cape St. George on the south side of New Ireland and entered St. George Channel, then the Duke of York Channel in the darkness. Our boats were tossed about fearsomely as we approached Simpson Harbor.
Rain, which had begun as light patters, now fell in torrents. Our foul weather gear consisted only of ponchos and with the wind, the spray, and the rain, we were all soaked and cold. It was black. Just before midnight, we found the torpedo nets and with the engines muffled, we hung onto the nets with our boathooks, all the while standing by to release our torpedoes.
One hour passed - no planes.
Two hours.
We watched as several Jap patrol or work boats entered the nets via an opening, observing the phosphorescence they stirred in the tropical waters. We could see trucks with black-out lights driving around the city. We could see the blue exhaust of Jap planes taking off from the airfield. We saw the gun flashes as "31-Knot" Burke used his destroyersí five-inch guns to shell the Duke of York Islands. We saw other flashes as our PT buddies knocked on other doors.
Was it now three hours? Where are our planes to give us light? The wind and rain are intense.
Four hours of waiting? We have to get out of here while itís still black or weíre all dead! Reluctantly, we backed off the nets and retraced out path back through the channel, sneaking along at about five knots with our mufflers blowing the exhaust under water. Any faster and our wakes would have stirred up the phosphorescence in the water.
Daylight caught us just outside of the Duke of York Channel heading for Cape St. George. The waves were now tremendous. One minute we would be high on a crest and we could see for miles, then we would fall into a trough and it would seem that we were in the bottom of a canyon.
Our cruising speed of 27-knots would have meant disaster as we crept along at perhaps ten knots. I was on forward lookout in the forward turret as usual when the 37mm ready box of ammunition was torn loose from the deck by green water pouring over the bow. Rounds of sensitive high explosive, tetryl-loaded ammo were being hurled around the deck by the tossing boat.
Without a "by-your-leave" or anything else, I bailed out of the turret and crawled forward. I could envision these sensitive rounds detonating and blowing the bow off the boat. Clutching round after round, I threw them overboard as I hung on like dear life to anything I could reach.
Having cleared all of the loose rounds, I was exhausted and nearly drowned as I returned to the turret bruised and battered from the pounding. Relieved on watch, I slept in the dayroom the rest of the trip back into Green Islandís lagoon, only awakening as we nosed up on the sandy beach like a landing craft.
Another of our Ron Five boats, the PT-107, which was strafing the beach to the south of Simpson Harbor took such a big wave that one of its torpedoes was ripped off the deck, launching rack and all. A couple of others sustained hull damage when they brushed against each other in the darkness. Several PT crew members in the raid were injured by the pounding.
Why didnít those B-25s drop their flares? The story we were told was that it was raining and they couldnít take off. Really? It was raining? No kidding?
And so an entire well-planned raid was for naught because the fly boys thought it was raining too hard. Were there really Jap transports in the harbor? All the time spent by hundreds of men and many boats and ships - all for naught.
Our Ron Five next got to go on up to invade Emirau Island as a reward so that we could help isolate that other big South Pacific Jap base at Kavieng as well as blockade Rabaul from the north.
I enter this night in my memory as the most physically miserable time in my entire life and that includes things like lying doggo in a surf line for hours while trying to sneak ashore in a hostile environment after a suspicious sentry thought he saw something move.
Wouldnít you bet some top brass somewhere up the chain of command earned a medal or two for this Rabaul "raid?"
Yet another example of the waste of war.
*************************************************************
FENI ISLAND FOIBLES
*************************************************************
The place is hard to find even on a big map. The Feni Islands are maybe thirty miles or so off the east coast of southern New Ireland. New Ireland is large, long, skinny island now belonging to Papua New Guinea. It lies north and west of the Solomon Islands of World War II fame in the South Pacific.
Well, we were nosing around the Feni Islands looking for trouble one night in February of 1944, having just taken Green Island from which we were operating. The Fenis are two extremely mountainous small pieces of land separated only a couple of hundred feet of shallow water more suitable to be traversed by a sea kayak. Our eighty-foot wooden Elco PT Boat had too deep a draft to negotiate that stretch. The largest isle is named Ambitle, but time has erased from my memory the smaller islandís name.
Our patrol was made up of my boat, the PT-103 and, as I recall some almost sixty years later, the PT-107. Lieutenant Charlie "Gimme-a-Beach-and Iíll-Strafe-It-All-Day" Bernier was riding the 103 as Section Leader or patrol commander. He was delightfully aggressive, always trying to provoke enemy action.
Charlie had often told us, "All I want out of this war is a Silver Star medal."
Our patrol had two mandates:
1. Do not enter the harbor or inlet created by the near-overlapping of the islands.
2. Clear the area before daylight when it becomes a free-fire zone.
We had negative contact all night snooping around the islands, hoping to flush out a Jap barge or to draw fire from a shore battery that we could then strafe with our machine cannons. Nothing interesting was spotted from my vantage point as lookout inside the forward twin-fifty caliber machine gun turret until dawn was starting to lighten the sky. We would have to head back to Green Island empty-handed . . . a negative contact patrol.
"Wait! Could that be a Jap troop barge with its bow pulled up on the beach? See it? ĎWay down there on that point. Too far away to tell for sure," I told Charlie while peering through my 7 X 50 binoculars.
Charlie told the skipper of the boat, "Take Ďer up to full speed and letís go take a closer look."
So, at close to forty knots we went toward the possible target with our three big 1550 horsepower Packard engines creating a crescendo through their unmuffled exhaust pipes. No sense sneaking along at idle speed with our mufflers closed, hidden by darkness, now that we were fully visible from the land by the wakening dawn.
"Nope, just a palm tree that has fallen across the beach," I reported as we closed with the point. "Sure looked like a barge in the early morning light."
Charlie, ever on the search for his Silver Star, decided our boats should at least take a peek inside that forbidden cove now that we were rounding the point at somewhere approaching 45 miles per hour.
"Wow! Look at that!" Charlie yelled.
"General Quarters!" shouted Ed Ockerman, our boat skipper at the time.
A small Jap base with four freshly-painted Type A troop barges pulled up on the beach was a sight to behold. The four 47-footer boats looked brand-new.
I jumped out of the turret and sprinted aft to my GQ station on the stern 20mm Oerlikon. We made a high speed starboard run on the barges bringing all guns to bear. As we went by a couple of hundred yards out we could see that there were palm-thatched huts just beyond the narrow beach. Another pass, hammering the base with every gun, including Tommy guns and .30 caliber carbines handled by those in the crew without a machine gun assignment. Nothing was moving and there was no return fire from the beach.
Coming to within much less than one hundred yards off the beach, both boats, the 103 and the 107 stopped dead in the water portside to and continued to pound everything in sight. This left our forward twin-fifty caliber turret able to engage anything approaching us from seaward to our starboard. Our machine guns sprayed the entire area. Our 20mm Oerlikons, with their explosive projectiles, worked over the barges. Our bow-mounted 37mm guns we had purloined from crashed P-39 fighter planes blew the huts to smithereens. My stern 20mm jammed hopelessly.
"I canít clear this without some major work," I reported to the Third Officer, Ensign Mohr.
He took the message to the Skipper who eased our boat up to the 107. We handed our full 20mm magazines over to their stern gunner, then backed off to resume our strafing. I was without a gun, except for my .45 pistol.
"Look at that! Fuel drums! A whole bunch of them down there, off to the left," the Third Officer shouted over the din.
A target for my .45 pistol! So, sitting down astraddle the smoke screen generator bottle, I started firing tracer bullets at the fuel dump. Each member of the crew carried a full box of fifty rounds of .45 tracer bullets in our life jackets to signal rescue aircraft in case our boat was sunk and we were in the water.
Round after round went into the fuel drums. "Empty? Danged things should be burning," I muttered, but no one could hear.
Finally, WHUMP!
The whole pile erupted in flames as my tracers ignited the fuel.
By now, the sun was up and had been for quite awhile as we lay there destroying the entire Jap base and undoubtedly stranding the whole garrison on their lonely outpost for the remainder of the war. Both boats had now expended all of their 20mm, fifty caliber, and 37mm ammo. Most of our Tommy guns had also run out of ammo and THE SUN WAS UP AND WE WERE IN THE HARBOR!
Charlie ordered us out of there. "Haul ass and letís head for Green!" he told the Skipper.
As we cleared the inlet, we looked back to see smoldering huts and a towering column of black smoke rising from the island. We could resume our cruising watches and I could climb back into the forward turret as the forward lookout.
Now, settle back for a smooth three or four hour ride on a beautifully calm sea under a scorching sun as we were cooled by the 27-knot breeze created by our cruising speed.
"Plane! Port Quarter!" shouted the lookout in the stern turret. I think that was Gunnerís Mate Second Class Woodrow Wilson Hobbs, an old pre-war Regular Navy man.
A PB4Y Navy Liberator just caught us coming out of the forbidden harbor! Darkness, our armor, had surrendered to a bright sun, long ago.
Now, we had been attacked by planes before and had shot down three . . . theirs and ours . . . but now we were out of ammunition and helpless.
Charlie ordered, "Quickly! Fire flares to challenge him. Turn into the circle of the day to let him know weíre a friendly."
As part of the recognition process, vessels could turn to the port or to the starboard on selected days to prove their identity as friendly.
Harry Cumbaa, our quartermaster, grabbed the flare pistol from the pyrotechnics locker on the starboard side of the cockpit. The proper colored flares were already laid out. He quickly loaded the gun and fired the flares into the clear blue sky.
Our skipper shouted for our radioman to try the radio, understanding that it was usually useless, not knowing the frequency the plane would be using.
The pilot must have received and understood our frantic signaling as he approached us from the stern waggling his wings as a sign of recognition. He made a very low pass along our port side with his crew waving to us and flew on. We all breathed a sigh of relief.
We returned to Green Island to refuel, rearm, clean the guns, and to get ready to go out again to look for action. And, for Charlie to report on the patrol. Just another routine day for Motor Torpedo Boat Squadron Five. At the time, some of us probably wondered if Charlie got his butt chewed for entering the forbidden harbor or received kudos for destroying the base and leaving the Japs stranded without boats or fuel.
Our Squadron Commanding Officer, Henry "Hank" Brantingham, didnít believe in giving medals for "doing your job." And our job was to kill Japs, so Charlie never did get his Silver Star . . . not in Squadron Five, anyway, but there still was lots of war left to fight.
2008 Prologue: Then, after Google was invented for our computers, Jack has found out more about the Feni Islands. The smaller island is named Babase and contains a large volcanic crater.
The strait between the islands measures about 100 meters long. The islands are actually roughly 150 kilometers east of New Ireland, but then, again, PT boats didnít have odometers.
Ambitle has a huge caldera that in 2007 was extensively diamond-drilled into in the hopes of finding a large gold deposit. The Vancouver, B.C., company found some gold, but not enough for commercial development.
Nothing has been found to date about the fate of the Jap occupiers or any mention of indigenous peoples.
Ambitle and Babase Islands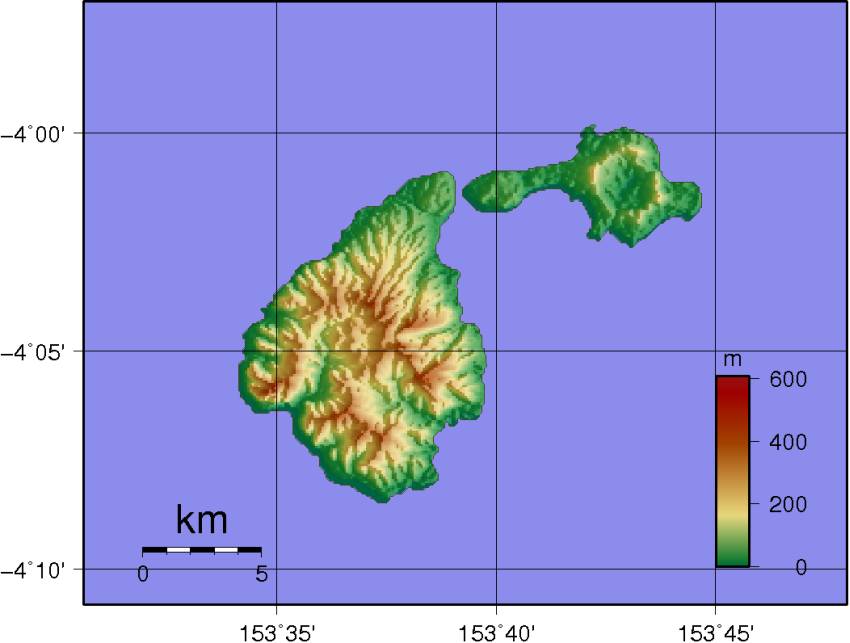 *************************************************************
NOW THATíS FISHING
*************************************************************
The PT boats of our Motor Torpedo Boat Squadron 5 sneaked into the lagoon via the north passage in the reef at Green Island. I was one of several of the crew standing lookout on the bow as we very slowly inched our way in with the coral heads clearly visible just below our hull. It was touchy inasmuch as our Nineteenth Century British Admiralty navigational charts were often wrong. It was February of 1944.
Green is a large atoll some forty to forty-five miles north of the large island of Bougainville, the top of the Solomon Island chain. Currently Bougainville is the dividing line between the nations of the Solomon Islands and Papua New Guinea with gold-rich Bougainville and the islands north of it part of Papua New Guinea.
Greenís lagoon seemed huge and idyllic in comparison with the more rugged, volcanic Solomons. I believe we were the very first boat into the lagoon while landing craft were still invading the islands from the outside
Everything seemed secure, so we proceeded a short distance to the east inside the lagoon where a nice beach seemed inviting. Dropping our anchor off the stern, the fragile plywood bow was eased up onto the sand. Jumping off the boat to the beach, we started to explore our surroundings when . . . WHOOSH, BLAM!
Some Allied artillery units began shooting over our heads at concealed Jap positions just yards beyond us. Someone was able to contact the gunners that we were there and also to arrange for a landing craft to bring us gasoline in drums so we could refuel and get on with the business at hand of eradicating Japanese military personnel.
From Green Island, our boats were able to run patrols up to Rabaul on New Britain, Namatanai on New Ireland and some surrounding islands where the Japanese had established small bases.
As the island was secured, we began to set up housekeeping there on the beach. We moved empty gasoline drums to use as steps to get on and off the boat. Some of us purloined those excellent Japanese Army tropical shirts from those who no longer needed them. Lowell, a Motor Machinistís Mate First Class, even got a pair of Jap climbing boots . . . the kind that had the big toe separate from the rest of the boot.
Back on the boat, I spotted some fish off the stern of the PT-103; little pan-sized fish by the thousands. Food! Grabbing two hand grenades (we were forbidden to carry them -- ha!) from the cockpit, I pulled the pins and threw the grenades into that huge school.
Stunned fish floated to the surface by the score. The crew grabbed pans, helmets, buckets, whatever and over the side we went, gathering the harvest. Those two grenades fed most of the squadron with delicious little fried fish of some kind, augmenting the so-called rations of "corned willy" which everyone agreed with canned horse from Australia. We also had sugar-sweet "meat and vegetable stew ration" in blue lacquered cans plus Vienna sausages. Those were our three entrees week after week along with every kind of coconut. Ripe coconut; the kind with meat you can grate. Green coconut; with its jelly-like meat. Over-ripe coconut; you ate the new nut growing inside, staying away from the meat which caused diarrhea.
Was it sporting to get fish that way? Of course not! It was an effective, though, to feed a bunch of hungry, half-wild, teen-aged kids with not enough palatable victuals to eat and far, far from home.
Isnít it strange how much of the privation and stress of combat fades as time goes on, but interludes such as this fish-fry linger on in the memory? This is military service . . . good times, bad times and boring times, camaraderie with people with whom you are close, but may never see again.
*************************************************************
BUT WHY MANILA?
*************************************************************
OK, itís 1945 and the war is over. The troops can go home. But not just yet for Jack Duncan, Torpedoman Second Class, USNR. Having completed Underwater Demolition Team (UDT) training at Ft. Pierce, Florida, and dispatched back to the Pacific Theater for his second tour, specifically, the Philippine Island of Samar, he was wondering what was next.
What was next was quite puzzling: Embark on a Landing Craft, Infantry (LCI) bound for Navy 3142 and Anchor Detail duty. Where is Navy 3142 and what is an Anchor Detail? Jack and his cohort Navy frogmen soon discovered that Navy 3142 was Navy lingo for Manila, but Anchor Detail remained a mystery.
But we must digress to an earlier time to complete this picture. Lieutenant Commander Draper Kauffman, called by most as the "father of UDT" had gotten his idea from the Royal Navy where he had served. When he sold the idea to the U.S. Navy, he was ordered to set up a school for training American Bluejackets to become frogmen. Jack had volunteered for that school after serving one long tour as a PT Boat crewman in the South and Southwest Pacific Theaters.
The idea of UDT was to swim to an invasion beach days or mere hours in advance of an amphibious landing to blow up obstacles, chart the waters, reconnoiter beach defenses and otherwise ensure a successful invasion. SCUBA had not yet been invented, so the equipment consisted of a pair of swim trunks and swim fins, a stout combat knife, sometimes a .45 pistol wrapped in a waterproof plastic pouch, 100 yards of detonation cord wrapped around your waist and a pack containing 40 pounds of C-2 explosive worn like a poncho. You also had a Plexiglas slate and a wax pencil for note taking. Team leaders had the detonators. The term "naked warrior" was quickly applied on top of the term "frogman."
Vice Admiral James Kauffman, Draper Kauffmanís father, the Commander of the Philippine Sea Frontier, was ensconced in posh digs in devastated Manila. He wanted some of his sonís "naked warriors" to come be his private police force to guard his headquarters compound, his mansion and to secure the surrounding barrios. So, with the UDT sailors no longer having to "prepare beaches", VADM Kauffman requested those unemployed "frogs" to come to Manila, their take-no-prisoners reputation preceding them
So, Jack and his colleagues not only guarded gates, but with Japanese hold-outs still around, the Maoist Hukkbalahaps actively fomenting revolution and the ubiquitous criminal black marketeers lurking in dark corners of surviving neighborhoods or "barrios," the war was definitely not over. The sailors sometimes wore white uniforms, but most frequently dungarees. They carried loaded .45 pistols and nightsticks. They patrolled on foot and by Jeep. Probably the occasional skirmishes were never officially recorded. We were liberating the Philippines, not occupying it.
The Admiral was known to the sailors as "Reggie," of course, not to his face and Jack often pondered that moniker. Could it have been the lordly lifestyle of the mansion, the chauffeured limousine, the houseboys that brought forth that title?
The Admiral as well as his successor, name lost in the haze of time, was good to his "frogs," however, always making sure that they had hot coffee and warm baked goods on the mid-watch. The few remaining Filipino residents also treated the Anchor Detail well, happy that the bad guys were not bothering them, frequently sharing their meager rations with the sailors. Of course, some purloined Navy rations might mysteriously appear on their doorsteps in appreciation of a family home-cooked meal.
So, mystery solved - Anchor Detail was a police force. Long after Jackís contemporaries had mustered out, he got to return Stateside, too. World War II was finally over for him. Reenlistment and a long military career awaited.
*************************************************************
MOTOR TORPEDO BOAT SQUADRON FIVE
*************************************************************
After arriving at Noumea, New Caledonia, on a Dutch liner turned troopship and almost immediately boarding an LCI (Landing Craft Infantry) for a dash to Tulagi, I was rapidly assigned to the PT-103 of Motor Torpedo Boat Squadron 5. I had learned "all about PT boat operations" at the Motor Torpedo Boat Squadrons Training Center (MTBSTC) in Melville, Rhode Island,
I could send and receive semaphore, I could start the engines and stand an engine room watch, I could use navigational charts. I was taught dead reckoning navigation. I learned the outlines of almost every plane being used by both the Allied and Axis powers. I had to identify them by having them flash on a screen at 1/100th of a second or lose my liberty card. I knew and drew from memory most of the Japanese warships. I learned to fire, disassemble and clean .50 cal. machine guns and 20mm Oerlikon machine cannons as well as the various small arms to be encountered on a PT boat. My course of instruction included the care and maintenance of antiquated World War One Mark VIII torpedoes, black powder fired torpedo tubes and Elco smoke bottles.
But I received precious little boat handling which was usually reserved for officers. And, of course, learned lots of hand-to-hand combat along with running the challenging, but dreaded, obstacle course. Those latter two things were to come in handy later on during my Underwater Demolition Training at Fort Pierce, Florida.
As a torpedoman third class, I understood torpedo triangulation of fire and the use of our primitive torpedo fire control directors.
What no one had mentioned was the organization of an MTB squadron; how one was organized, who was in charge or even the hierarchy of command.
Upon boarding my first boat as a crewman at Tulagi, unfamiliar guns were my first shock after having all of my precious issue materiel thrown overboard.
A 37mm single-shot anti-tank gun and a Lewis .30-06 machine gun were mounted on the bow. I felt that I could learn these strange guns after I had taken tally of my four ancient Mark VIII torpedoes, serials numbers 20768, 27669, 42157 and 46853. The torpedoman I had relieved had departed already, so there was no turn-over log or time. I had to perform the routines of maintenance immediately to satisfy myself and my skipper that the torpedoes were ready to fire.
Well, at some point in time, I gradually learned that there were usually twelve boats in a squadron. Our operations out of Tulagi and later Rendova involved so many mixed boats, however, that I didnít know and donít ever remember seeing the Ron 5 commanding officer, a Commander Henry Farrow about whom I learned from At Close Quarters sometime after the war ended.
In fact, I first had contact with Hank Brantingham of Ron 9 while he was acting as a section leader of a patrol somewhere around Choiseul, as I recall. He had my skipper send me below to put on a shirt while I was standing forward lookout in the forward turret. He later became squadron C.O. of Ron 5 on January 24, 1944, according to At Close Quarters. In our innocence we did not fully comprehend that when a boat blows up, a shirt will give some protection from burning aviation gas we used for fuel.
Anyway, it slowly dawned on me what other boats were in my squadron. As the war escalated, newer squadrons trained together, went on a shakedown cruise together, shipped overseas together and shared a unit cohesiveness not found in Ron 5. As a result, many of us old Ron Fivers are just now finding each other after some 60 years have passed.
Our Ron had been commissioned on June 16, 1942, while I was still awaiting my 17th birthday to be eligible to join the Navy. It was assigned to protect the Panama Sea Frontier for a few months, including some of the boats sent to the Galapagos Islands, my PT-103 among them. In the spring of 1943, Ron 5 was shipped to the Solomons. During that period, I was in training at Torpedo School and MTBSTC before shipping out on that hated troop transport.
Ordered to not keep a diary in case of capture, I have lost most of the important dates from my memory. I joined Ron 5 before Bougainville which was invaded by Allied forces on November 5, 1943. We had patrolled around Rendova, including "the Slot."
At various times, Ron 5 had twenty-two boats assigned to it as boats were transferred around to bring other squadrons up to strength due to losses. So, instead of Ron 5 being comprised of the 103 through the 114 as commissioned, it consisted of the 62, 63, 64, 65, 103, 104, 105, 106, 107, 108, 318 and 319 when I finally became aware of the extent of our squadron.
It can be argued that as a mere Torpedoman Third Class, I had no need to know. Possibly that is true, but it would have been nice. My duties as an ordnance rating required me to know my torpedoes, my depth charges and the guns, to which had been added a 20mm Oerlikon on the bow to replace the Lewis gun and an aircraft 37mm machine cannon purloined from a crashed P-39 Airacobra fighter plane.
Later, we were to add a 40mm Bofors to replace the stern 20mm as an aid in barge busting, as well as a 60mm mortar from which to launch harassing fire along enemy beaches and provide illuminating flares. I was promoted to Torpedoman Second Class just before my 19th birthday while at Emirau Island. From Emirau in the Saint Matthias Group, we sailed for the Admiralties, then to Hollandia, New Guinea, and finally to Mios Woendi near Biak in the Dutch East Indies, now called Indonesia.
On February 15, 1945, Ron 5 was decommissioned, having only five boats left after the PT-108 was wrecked on a reef at Mios Woendi atollís entrance. I last saw her with her screws up in the lazarette. Unbelievably, she was returned to service and assigned to another squadron as were the other Ron 5 boats.
As for officers, these came and went fast and furiously with rotation back to the States of the old ones and shifting around of the new officers as they gained experience. Coming in during the middle of the show, Iíve lost track of who, when and how. We enlisted crewmen were not much better as my old crew roster contains scores of names of shipmates on the three boats on which I served.
My South Seas adventure below the Equator finally came to an end after the better part of two years. Another Dutch ship, a converted freighter, ferried me from Biak Island to San Francisco and home.
After a 30 day leave I was sent to the Fargo Building in Boston for reassignment back to the Pacific wars. Most of my contemporaries returned to the Pacific to join other PT squadrons, but I opted out of the little green boats by volunteering for a school in Florida. I was sent to the Philippines after Underwater Demolition Team training as a Navy frogman and was assigned to military police duties in Manila with the Commander, Philippine Sea Frontier as peace was declared. I was a cop and the war had not yet ended for me with the dangers of post-war Manila with Jap Army holdouts, black marketeer criminals and Maoist Communists known as Hukkbalahaps. A point system to determine the priority of demobilization proved useless to me as I was declared "frozen," so by the time I was finally ready for discharge, I had also decided to reenlist in the Reserves. Promptly recalled to active duty, I was assigned instructor duty in Naval Ordnance and Gunnery and Small Unit Tactics. Changing my rating to Gunnerís Mate, I served on active duty until sent to the Korean War as a battleship turret gunner - far, far out of my realm of experience, competence and confidence.
In spite of some enjoyable times spent in other units during my 43 years of service and lots of other adventures and travels to faraway and exotic places Motor Torpedo Boat Squadron 5 put an indelible mark on my memory. It was a great time and the remote and now-mostly-forgotten islands of the Southern Hemisphere proved a great place for a kid to grow quickly into manhood.
*************************************************************
HE WAS THE BABE!
*************************************************************
Most of my musing are about guns of some kind - well, maybe this is classed under Big Guns! Anyway, it was during a war, so it may count, anyway.
I was about to graduate from the Motor Torpedo Boat Squadrons Training Center in Melville, R.I., or maybe I had and was awaiting orders. For reasons long forgotten, I decided to go visit my ex-brother-in-law down in Brooklyn. He was in the twilight years of a long career in professional baseball, but still a Brooklyn Dodger. You may have heard of Stanley "Frenchy" Bordagaray, but donít admit it or you may be asked if you want assistance in crossing the street.
Frenchy died in April of 2000 at the age of 90.
But, to go on. The Dodgers were playing a home game at Ebbets Field and one of the skippers of a PT Boat, it might have been the 328, said I could ride down to Brooklyn Navy Yard as they headed for the South Pacific. You bet! A free ride and everything.
As the boat along with the others they were accompanying were in the East River approaching Brooklyn, the crew told me to take the wheel. Now, could a kid Torpedoman Third Class resist? Did I feel proud driving that "80-feet of fighting fury" with all those girls lined up along the banks waving at our crew, who were delightedly waving back!
Yeah, but I had to concentrate on steering around all the flotsam and jetsam in the river and couldnít even look at the girls - Iíd been snookered.
We docked and I went over to Ebbets Field and met Frenchy, who escorted me into the clubhouse and then let me watch the game from the dug-out.
No! No! Thatís not the story, although that wasnít bad. In the stands right above the dug-out was a guy to whom Frenchy introduced me. He was the Big Gun. The Babe himself. Got to talk with him and everything. So, when I returned to the training center, do you think I was believed?
Of course not, but thereís a memory no one can ever take away from me except the Grim Reaper. I was introduced to Babe Ruth in the stands at Ebbets Field and got to sit and talk for a few minutes before I returned to the dug-out.
What team was playing against the Brooklyn Dodgers that day? I havenít the foggiest idea! Who cares? I had met the Babe!
*************************************************************
MANTA RAY AT STIRLING
*************************************************************
Stirling Island is one of two islands comprising the Treasurys which are several miles southwest of Bougainville. It is a low-lying, uninhabited island just across Blanche Harbor from the larger, probably volcanic and mountainous Mono Island. The two are separated only by a rather narrow, far less than one mile wide, channel.
Several squadrons of PT Boats used the many inlets set like fingers being pushed into Stirling. The water was fairly deep in the inlets, twelve to twenty feet, so we could idle in and tie up to the trees where the marauding Jap planes couldnít spot us. In fact, we even used a large branch as a gangplank, setting up a campground of sorts under a huge kapok tree. The camp had Army cots, was covered by a tarp and was rather idyllic, given the times and locale. We felt safe from air strafing attacks, although we did undergo almost nightly bombings at first from the Jap airfields in the Shortland Islands off the southern coast of Bougainville.
Despite the ANZACs (Australian and New Zealand troops) having taken the island from the Japs, other things were still alive there. We had one huge, docile, tree-dwelling lizard, probably an iguana, that liked to be fed pancakes at our little campground. Scary thing, but friendly. Too friendly for me!
Speaking of friendly, we all know now in the 21st Century that manta rays also are docile and even can be ridden, although they possess a tremendous, imposing wingspan. In 1943, this was an unknown fact, however.
Well, I had visited one of the other boats tied up to the trees on the opposite side of the inlet; rather walking the half mile or so around this inlet, we would just dive in and swim across the narrow finger of water. Swimming back to my PT-103, I looked up just in time to see a manta ray porpoise out of the water in the middle of the main channel just a hundred yards or so away.
In 1943, to this Bakersfield kid, any ray was a sting ray, if so, this oneís stinger must have been a bull whip, at least.
Had I been timed, Iíll bet the remainder of my swim back to my boat would have broken an Olympic record. Yes, this is the only manta ray Iíve ever seen while swimming.
*************************************************************
RENDOVA AND BEYOND REMEMBERED
*************************************************************
We had taken a hit up somewhere around Bougainville. I donít remember exactly which firefight we were in, but a Jap bullet had hit one of our Packard engine superchargers causing it to fly apart with shrapnel sprayed all over the engine room. So, the PT-103 had to pull out of combat and sail from our forward base at Treasury Islands down "the Line" to the repair base at Rendova. There, we could get a new engine installed. It was late 1943 or early 1944, sometime in that period, probably more like early 1944.
I remember having the con (steering from the cockpit) on an absolutely gorgeous day as we limped through Blackett Strait past Kolombangara, Gizo and New Georgia. I was alone in the cockpit with only three of us on deck, one guy in each of our two twin-.50 caliber turrets standing lookout watch. I was struggling to keep on course due to our using only one wing engine and the center engine. The propellor that was stopped and the torque of the other two engines kept skewing me off course despite all efforts to hold steady and, too, there are strong currents around those islands.
Ensign Ockerman was our new skipper, Ensign Green having returned to the States. Well, red-headed Kentuckian (as I recall his home state) Ed Ockerman, not known for his charming personality, emerged from below decks and chewed me out for not steering a straight course. I was aware of that and trying as hard as I could.
Finally making Rendova, we could change engines, resupply our larder, such as it was, perform some maintenance work and stay out of combat for a day or two.
Well, as we were tied up to a dock where a crane could change our ruined engine the next morning, we were lying around in the evening in our crewís quarters when someone saw water on the deck. We jumped out of our bunks to find the deck plates were floating and we had water everywhere. We were sinking at the dock!
The Base Force was alerted, bringing a couple of pumps down to de-water us and determine why we were taking on water just after transiting down for a couple of hundred miles of open ocean. It was discovered that one of the engineers had failed to shut off a valve on one of the self-bailers, so a twist of that valve saved the day. We had a mess to clean up, though.
At this time, I was suffering from a horrible case of "Tulagi Rot," the fungus infection so many of us acquired caused by repeated exposure to sea water, it was rumored. Taking advantage of the respite, I went over to the base sick bay to have my rotting feet checked. They hospitalized me!
"Wait! I donít have time for this. The boat needs work," went my thoughts. Doctor Martin, whose name Iíll never forget, informed me that he would amputate a couple of my toes and send me down to Guadalcanal to recuperate. Now, I knew that this could not be allowed to happen, as I was the only torpedoman on this motor torpedo boat.
A couple of crew members came to see what had happened to me and I left with them, going back to the 3-boat, but taking along the gentian violet concoction that was the prescribed medical treatment. The infection had eaten all the way to the bone and I actually got to see the blue-white of the bones as I swabbed the infected tissue away with the gentian violet. The infection was eventually cured after a few weeks although my toes still are scarred if you know what to look for.
Then came the shocker! Two new officers were coming on board with both the Exec and Third Officer being reassigned. The newbies were both full lieutenants, one just having joined the Navy as a lawyer thereby skipping the normal progression of starting as an ensign and getting promoted to lieutenant junior grade. Samuel A. Pond was from San Francisco and was liked by all hands, while Jack OíDonnell who was from Saint Louis proving aloof and somewhat arrogant. OíDonnell would be the Exec and Pond the Third Officer serving under Ensign Ockerman as skipper as I recall . . . a strange situation. But these two new officers had just arrived in the combat area without any experience at all in PT boats, combat, or even the seagoing Navy. We would have to manage with an upside down rank arrangement.
The new engine in place, we returned to Treasury with only one more incident. Running along at our cruising speed of 27 knots as we passed Vella Lavella, a lone F4U Corsair made a dive on us out of the sun. I was on watch in the aft .50-caliber turret, almost opening fire on him before spotting those tell-tale gull wings. Not a smart pilot!
Arriving back at Treasury, OíDonnell was appointed boat skipper, Pond was promoted to Squadron Exec, I donít recall who became the boat X.O., maybe Mohr with E.C. Carver as Third Officer. There was a whirlwind of officer changes about that time as Ockerman and several others in our squadron returned Stateside, so excuse my memory lapse.
We immediately had to go out on night patrol, of course, heading for Kieta, the Shortlands or Choiseul. All I remember is that we were transiting south of Bougainville in the dark as part of a three boat section. We struck some sort of floating debris in the water, wrecking all three screws. The other two boats continued on the mission while we turned back to Base Nine to get new propellors installed, our mission aborted.
The normal routine was to double back on the same course on which we had departed, fire a flare challenging the island so they would recognize us as a friendly and go on into the east entrance to Blanche Harbor, the lagoon separating Mono and Stirling Islands. But, being a lawyer; therefore, smarter than the rest of the world, Mad Jack OíDonnell would not listen to those of us "old timers," who knew the ropes. (I was only 18 at the time, but had been in combat for several months, therefore, an "old timer.")
No, Mad Jack decided that the island defenders might think we were Japs, coming in from the direction of the Shortlands to the east, so we would go around and approach from the west! He had several of us line up on the port side of the boat to watch for gun flashes in case the Army artillery used their 155mm Long Toms on us. I had visited the ANZAC troopers there and checked out their flat-shooting, high-velocity 57mm anti-tank guns based there, too. Wicked little cannons!
Remember, we were limping along at idle engine speed to hold down the tremendous vibration caused by those ruined screws . . . maybe five or six knots. As we approached the west entrance, always closed by anti-submarine nets at night, Mad Jack dispatched me to sit up on the bullnose on the bow with a battle lantern to guide him into the channel. We had earlier disabled our searchlight mounted on the port side of the cockpit after it had inadvertently been turned on one night off Masiga (sp?) Point on southwest Bougainville with its six-inch Jap shore battery.
I just knew that I was going to get hosed down with a .50-caliber machine gun if not something bigger. All the weak glow of the battle lantern was designed for was for interior illumination, not as a spotlight. It made me a very excellent target, but Mad Jack was a lawyer; ergo, smarter than we teen-agers, so he knew how to handle the situation. What an arrogant ass!
Soon a small harbor patrol craft came out and took us through the nets after first hailing us to turn off that stupid light before a Jap float plane turned it off for us. Safely back at our "dock," a convenient tree trunk, we changed our screws the next morning, but that had turned into one scary incident.
We heard later that we had never been off the artillery radar and that they had called the PT Boat Base to ask what the heck was going on. Only the first of several idiotic stunts Mad Jack would pull, I soon requested to be transferred to the PT-62 and avoided further contact with that "gentleman by act of Congress."
I wonder if thatís why Iím still leery of most lawyers?
*************************************************************
PLYWOOD VERSUS STEEL
*************************************************************
I had long-admired the sleek 77-footers, the four early Elcos that were attached to our own Ron Five. Those boats were much more streamlined than my PT-103 which was the very first of the PT-103 Class of Elco 80-footers that made up the rest of our squadron of twelve boats.
The PT-62, 63, 64, 65, 318 and 319 had been assigned from other squadrons to Ron Five to bring us back up to full strength after we had some losses and others of our boats had been reassigned to bring those Rons up to full complement.
I had grown to dislike and distrust my skipper, a lawyer fresh into the Navy, commissioned as a Lieutenant, jumping over the normal progression of Ensign, then Lieutenant Junior Grade before advancing to Lieutenant. He was not only brand new to the Navy, but had no combat experience while imbued with what I considered arrogance or self-importance. As I have matured, it was probably the sheer terror of suddenly being in charge of a warship in combat and all that entailed.
Rance Widener was the torpedoman on the PT-62. We had talked, discussing how he would like to serve on an 80-foot Elco, while I wished to be on a 77-footer. We wondered if we could arrange a swap. Both of us were combat-experienced and petty officers third class.
Broaching the subject with our respective skippers, we were sent to the Squadron Executive Officer, Lieutenant Samuel A. Pond.
"I donít have any objections if itís OK with your skippers. Go talk to them," he said.
That is how I arrived on what was boasted of as "the fastest boat in the South Pacific Theater." According to our engineers, "Motor Macs," they were called, she pulled a flat 48 knots over a measured mile course with a full war load. The "however" is that she had a flat bottom with a hard chine and would take spray over the side while tied to a buoy if there was the slightest chop. She was WET, WET, WET!
But, I digress. One brightly-lit moonlight night off the east coast of New Ireland during most likely May or June of 1944, we were interdicting the Boluminski Highway. This was the only good road on the rugged island. Heavy truck traffic had netted our boats a total of eleven trucks on this road over the months, so we were hunting hard. For every truck we caused to burn, the crew was awarded a case of beer. I would trade my allotment for eggs or Cokes; things we rarely saw.
I was off watch and lying on the deck sound asleep atop my life jacket as a substitute mattress when the guns opened up. In close to the shoreline, someone had spotted movement. Rousing without hearing a General Quarters alarm, I heard a shout of "Smoke, smoke, smoke!"
When such an order was relayed, it was my job to run to the stern bottle of Elco smoke and begin to lay down a smoke screen. This didnít happen too often.
The Japs had snookered us. The truck we tried to burn was a tank! As I watched our tracers bounce off its armored sides, I began to lay a series of short smoke patterns as the helmsman hit the throttles. As we ran out of range, I continued the prescribed doctrine of laying puffs of smoke to draw the Japsí fire; thereby losing sight of the opponent.
Later, the skipper gave me a mild reprimand for not laying smoke sooner. But, no one had sounded GQ and half the crew was off watch, getting our two hours of sleep on deck, alternated with two hours on watch.
The tank didnít hit us with its cannon and our bullets must have only scratched its paint, so it was a draw as a firefight. No hits, no runs, no beer.
But, it was not a fair fight of a tankís armor against a PT boatís 3/4-inch plywood.
*************************************************************
THE SUMMER OF Ď38
*************************************************************
John Compton was the Principal at Emerson Junior High in pre-war, pre-air conditioning Bakersfield where I had just graduated from Thelma Royís 8th grade homeroom. I was twelve.
When the fall semester began, I would be going to the brand-new, still-under-construction East Bakersfield High School. No longer would I have to ride my Hawthorne bicycle all the way from our home at Eureka and Haley Streets in East Bakersfield clear across town to get to school. That bike ride, especially during the tule fogs of the San Joaquin Valley winters had not been pleasant. All of my neighborhood buddies, Barbara Lime, Elwood Huskey, Kenny Galyan, Beverly Harrison went to Washington Junior High, but for an unknown or perhaps forgotten reason, my parents insisted on my going to Emerson.
The summer of 1938 would prove auspicious.
My sister, Dorothy Ann now known as Dee, was going to have a baby in St. Louis, Missouri, where she was living. Her husband, Stan "Frenchy" Bordagaray, was playing baseball for the St. Louis Cardinals, hence the Missouri residency.
My mother and I took a train bound for St. Louis. At some point in Kansas, we had to detrain and spend a night in a hotel as a tornado had disrupted train travel. Arriving in St. Louis, we stayed with my sister in a huge house shared by catcher Mickey Owen and his gorgeous wife, Gloria.
Snippets of memories here include seeing fireflies for the first time, watching fascinating displays of "heat lightning" and going to all of the Cardinalsí home games with Stan. Receiving a baseball signed by the entire "Gas House Gang." Riding on the floor of Pepper Martinís station wagon because he had removed the back seat cushion for some reason. Driving down to my ancestral homestead near Greenville, meeting aunts, uncles and cousins for the first time. Seeing a very, old lady in a black dress, living in an ancient house and finding that she was my fatherís mother, my grandmother! At twelve, the meeting didnít have the effect it should have; a matter that I regretted in later life. It was to prove the only time I ever saw her. Got sick as a horse, probably from the well water and had to be rescued by my sister in her Chrysler Airflow.
Back in St. Louis, I celebrated by 13th birthday. As the summer wore on, it was time for me to return to Bakersfield to get ready to enter high school! Mom was staying on to care for my sister and her baby, Stanna Lee. So arose the dilemma of how to get me home all by myself.
Ah hah! There was now a new form of transportation called flying.
So, as a combination of my 8th grade graduation and my 13th birthday, I departed from Lambert Field on a Transcontinental-Western Airways (TWA) Douglas DC-2 bound for Kansas City. I was enthralled never having been in the air before, although I had witnessed Mom and Dad taking a flight in an open cockpit biplane. At Kansas City, I changed planes to a DC-3 with a stop in Amarillo for refueling. The wind came whistling oíer the plain there.
Back aboard, the pilot flew us down through the Grand Canyon, my first sight of that marvel. Landing in Los Angeles, I was met by my dad for the trip home in the Ford over the Grapevine as the main north-south route was known; Highway 99.
It was great to see the Valley laid out below as we wound down the switchbacks that since have been supplanted by a super highway known as Interstate 5. I was home at last.
For a just-turned 13-year-old, that had been quite a summer of adventures only to end with the trauma of entering high school! With the Great Depression still roaring and many of the Dust Bowl refugees living in makeshift shacks along Kern River or camps in Arvin, I had been hob-nobbing with Big League ball players, had vacationed in the Mid-West, had met my grandmother and had actually flown across half of the continent on an airliner.
Life was good, but Dadís sudden death two years later from a ruptured appendix and with war only three years away, the adventures would continue. Now after 43 years of Naval service and more years as a civilian Navy instructor behind me plus flights all over Asia, the Pacific and the Indian Oceans, ship transits of the Pacific, years spent in South Seas islands away from civilization, life is still good and the adventures havenít ceased yet.
My Marvelous Marlene and I team as the Civilian Marksmanship Program Arizona State Directors for Junior Shooting and as presenters for the Joe Foss Institute. We are entering our 40th year of adventures together and our eleventh year of living in the desert. Life is very good here in Lake Havasu City, Arizona!
*************************************************************
THAT "FORGOTTEN" WAR
*************************************************************
It was 1951. I was beginning to think that I was going to spend the Korean War as an instructor of Naval Ordnance and Gunnery. Then, orders arrived sending toward the Western Pacific where I had already spent most of three years.
I believed I was destined for an Underwater Demolition Team or some such unit that would be commensurate with my expertise and training. I had to report to the Receiving Station, Treasure Island, California after a flight up from San Diego on a huge transport aircraft whose designation Iíve forgotten and it was one of only a couple of that type purchased, anyway.
A friend, Lieutenant Commander Frederick Pennoyer, had just taken command of a destroyer escort there in San Diego and asked for me as one of his gunnerís mates, but inasmuch as I was not rated as a shipboard-type sailor, but as a Navy frogman, he was turned down by higher powers.
Arriving at the Receiving Station with orders reading "For Further Transfer," I had to be "classified" as every sailor was. That meant they looked at your training record and sent you on to a unit in which you would best fit. Remember, this was in the days before computers.
The petty officer first class took one look at my rating of Gunnerís Mate Second Class and announced to his office compadres that he had found the guy to fill a priority billet! And, so, despite my protestations, I was dispatched to the USS New Jersey (BB-62) via another stinking troopship . . . the New Jersey being at that time involved on the "gun line" in the Sea of Japan. I was slated to be the new Shell Deck Captain of Turret Three.
My only experience or education on turrets came from reading a generic training manual. I belonged in a UDT Team or on a small fast boat using small unit tactics and small arms. I was more comfortable carrying a rifle and a pack of explosives. I had crewed the 77-foot PT-62 as a torpedoman, now I would be a crewman on the 888-foot BB-62 as a gunnerís mate.
A tiny cog in a 79-man group that it took to operate a 16-inch gun turret, I was going to be totally out of my element. Arriving at Yokosuka, I boarded this behemoth and was led down into the bowels to the Ordnance Office. Confessing to the leading chief that I was first a frogman or PT boater, he said that I could learn turrets under the capable tutelage of the Chief Turret Captain and his leading Turret Captain First Class who were in charge of Turret Three. Of course, there were two very junior officers assigned as Turret Officers, but they were as lost as I, the old vet left over from World War Two.
Gunnerís Mates were in very short supply, apparently.
I not only learned turret operation in short order so that I could function as the petty officer in charge of the crew sending the huge projectiles up to the guns, I was also assigned other tasks. For example, I was appointed Mount Captain of the Number 19 Quad-40mm Gun Mount for cruising watches. This gun was hung on a sponson over the starboard quarter where stack gases almost gagged us. For Anti-Aircraft General Quarters when the turrets were not of use, I was the Emergency Repairman of Number 12 Group of Twin-20mm guns, manned by the Marine complement. This group of guns was on the port side just forward of Turret Three.
With those jobs accounted for, another task was as Platoon Guide (or third in command) of the Third Rifle Platoon of the Landing Force Rifle Company . . . the first two platoons being Marines. Of course, my primary assignment for General Quarters and bombardment watches remained Shell Deck Captain, my turret education continuing during the part of the deployment I served on the New Jersey.
Besides generally shooting up the shore line and upwards of twenty miles inland in support of troops ashore, Turret Three was credited with eradicating a huge, reportedly ex-German, railway gun that had been raising havoc with cruisers and destroyers in Wonsan Harbor.
Then we dropped a powder car, used to hoist powder from the Magazines below the Shell Deck, causing one gun to be put out of action. It had fallen all the way from the gunroom at the top of the turret to the bottom of the ship due to a hydraulic failure. The ship had to return to Yokosuka for repairs at the shipyard there; the repairs being far beyond the capabilities or expertise of the shipís crew were accomplished by the civilian Japanese workers, who had so recently repaired the ships of the Imperial Japanese Fleet.
Before the ship had completed her tour on the Gun Line off Korea, a directive came out allowing certain Reservists to be released from active duty. I hated shipboard duty; it was so impersonal. I was among those designated sailors and returned home on another troopship; my sixth trans-Pacific voyage on one of those hell-ships.
On this one deployment, I had earned the Navy Occupation Medal, the Korean Service Medal with two battle stars, the Korean Presidential Unit Citation, the Korean War Service Medal and had added a gold star to my Combat Action Ribbon first earned in World War Two. We had taken a hit between the stacks from an air burst from a shore battery, killing one of my Division Three shipmates and another round had only scratched the paint upon exploding on the face of Turret One.
At age 26, I had fought in my second war and had spent four Christmas holiday seasons overseas . . . 1943, 1944, 1945, and 1951. I was not to be called back to active duty until 1962 during the Cuban affair, staying with drilling units as Union Oil transferred me from place to place, including a tour as Superintendent of Terminals for the Hawaii Division.
With complete acquiescence of the company, the Navy did borrow me for some thrilling extended assignments from time to time, including even a return to the far Western Pacific involving the Quemoy and Matsu Island affair off the coast of China and even another trip to the Philippines. After serving on active duty again from 1962 to 1971 through most of the Vietnam War, I never returned to Union Oil Company. I had acquired other knowledge and had found even more thrilling adventures in life with my Marvelous Marlene.
*************************************************************
JOE FOSS INSTITUTE, MY STORY
*************************************************************
Let me preface this vignette with that although I have kept my drivers license, at age 83, I have chosen to no longer drive. I feel that my reaction time is just not fast enough to cope with Arizonaís 75-mile-per-hour speed limit. So, for several years, Marlene has driven us while I ride shotgun; backseat driving from the front seat.
The past six semesters have been one of the better times of our lives. We have been assigned by the Joe Foss Institute to present school assemblies under the Veterans Inspiring Patriotism program. What an honor to represent such a great man!
The two of us have had wonderful experiences meeting some eager students and many patriotic and dedicated teachers while enjoying some nice adventures. We have been spreading Joe Fossí dream of keeping alive the sacrifices made by veterans of all wars to keep America free, including some knowledge of the Constitution and the Bill of Rights.
Let me explain: General Joe Foss, only one of his titles, earned the Congressional Medal of Honor at Guadalcanal in1942 by shooting down 26 Japanese planes with his obsolete Grumman F4F Wildcat fighter. A Marine Corps captain at the time, Joe had the medal hung around his neck in the White House by President Franklin Delano Roosevelt himself.
Now, only a relative handful of people have received the MOH and survived, the majority being presented posthumously; the hero dying in the commission of his valiant deed. Joe was not only one of the former, but went on to more fame and celebrity after World War II, eventually being promoted to a General Officerís rank in the South Dakota Air National Guard.
Commissioner Joe Foss served as the first commissioner of the now-defunct American Football League. Governor Joe Foss was the top elected official in South Dakota. President Joe Foss headed the National Rifle Association. His heroism just never seemed to stop.
I first met then-Major Joe Foss, USMCR, on the remote and obscure island of Emirau in the Saint Matthias Island Group in what is now Papua New Guinea. Allow me to set the stage. The commander of a Marine Aviation squadron, Joeís planes had knocked a small Japanese ship near their large naval base at Kavieng on New Ireland. (Yes, yes, I know that geography is one of the lost subjects in our schools, so youíll have to go the Internet to find the locale.)
At any rate, Joe, as he asked me to call him much later in life, came down to the PT Boat Base at Emirau to request a ride into the hornetsí nest to determine why there had been no activity around the submarine chaser since the air attack. The PT-103 was chosen for the dangerous job. I was the 18-year-old torpedoman on that motor torpedo boat.
We found the entire Jap crew had been killed. The ship had run aground, its bow in shoaling water while its stern was partially submerged.
Meeting Joe some four decades later, I mentioned the feat and was received like an old war buddy, which I guess I might have been so classified. In 1944, a Marine Major would have hardly noticed a teen-aged crewman, but he was perhaps a shade above a god to me. From then on, our paths crossed several times and he always remembered our relationship dating back so many years.
Joe Foss left us in 2003 at age 89. His stepson Dean Hall was our state NRA Field Representative as we worked as volunteers with the fundraising Friends of NRA. Dean told me he was going to sign me on as a volunteer with the Joe Foss Institute. In order to honor this hero, I gladly accepted and heard nothing for many months.
Then suddenly, out of the blue, assignments to various schools around northern Arizona began to pour in for my approval. The very first was to address the faculty and staff of the Mohave Community College, Kingman Campus. I read a vignette about one of my early adventures as a young mosquito boat sailor, then described the Institute and its goal of bringing to life the sacrifice of the millions of veterans of the many American wars with a dose of the Constitution and the Bill of Rights thrown in.
Marlene had yet to have a role in this other than support my talk. During the question and answer phase we got into a great philosophical discussion mostly between the Chancellor of the College District and me. Others joined in and we discussed the Iraqi War. My education in Geography and Cultural Anthropology stood me in good stead as we interacted.
Overall, Marlene scored it as successful. I scored it as enjoyable. I was so proud to honor my hero!
We went on from there to other college campuses, to high schools, eventually to middle schools and finally to elementary schools. We roamed as far from our Lake Havasu City home on the western border of Arizona to schools in Southern California and even on the Navajo Nation adjacent to the New Mexico border. We traveled to schools along the southern border of Arizona near the Republic of Mexico and even to Colorado City on the Utah boundary.
We had to modify our program to fit the audience, deciding on a collection of flags to demonstrate symbolism, relating it to Joeís dream of keeping the memory of veterans alive. We added flag after flag, state flags, flags of countries now located in places where I served in combat during World War II - countries that did not exist at during World War II. Papua New Guinea, the Solomon Islands, Indonesia, even the flag of the Northern Marianas to bring some geography to students - and teachers - who were unaware that the latter place was now U.S. territory complete with Army JROTC units in high schools.
Although not a veteran herself, Marlene served as the wife of a Command Master Chief for some fourteen years during my 43 years of Naval service. That makes her almost a veteran and she has joined in as we speak as a team.
Now in 2009, Marlene and I have addressed almost 18,000 students at schools from San Diego to Fallon, Nevada, from Yuma to Fort Defiance in Arizona. We have lost track of the numbers of schools, but for statistical purposes we must report on the numbers of students. We have been met with courtesy everywhere. Questions from the students have ranged from the quaint to the philosophically deep.
It has been our observation that knowledge of history, civics, the Constitution and especially geography are essentially lacking compared to our school days of yore. Joeís dream is proving to us to be necessary in order keep the youth informed about our nationís wars and its Constitutionally-based laws. The students get to interact face-to-face with a veteran for the first times in their lives for many.
We often are asked about remuneration for our travel expenses. Our pay comes from the kids, from the expressions on their faces, from the exciting times we have experienced with the school staffs and the students, from the pride in being able to honor the memory of Joe Foss.
Now, as of April, 2009, we to date have addressed some 17,675 students, finding that America will be in the good hands of the patriotic younger generation now approaching adulthood. Joe Foss can rest assured.
*************************************************************
A CHILD OF THE DEPRESSION?
*************************************************************
Being born in 1925, it naturally could be assumed that I was a child of the Depression suffering all of the travails of that trying time in American and, indeed, world history. Hitting in 1929 and continuing until the outbreak of World War II, millions of heads of families were unemployed, soup kitchens were opened and government aid was offered to keep many of the populace from starving.
Subscribing to the magazine, "Reminisce" now in the opening days of the 21st Century, it is full of stories about trying to stay alive through that frightful period. There are stories of whole families living in chicken coops. I remember the cardboard shelters of Okies, Dust Bowl refugees, living in the Kern River bottoms on the northwest side of the Chester Avenue bridge in Bakersfield. Collectively, the shanties were called "Hooverville."
Also, earlier, I remember driving from Roseville, California, the long, long journey of eighteen miles over to the state capital of Sacramento in our 1923 Dodge canvas-roofed car. If rain struck, Dad would stop and button in the side curtains so we could stay dry.
Once in bustling Sacramento, we would stop by a farmersí market to partake of all-you-could-drink buttermilk and hot potato chips right out of the bubbling oil. I believed that was because my family, along with so many others, needed to save money. We would go to the Senator Theater, watch a vaudeville act and a movie with music blaring forth from the organist down in the orchestra pit.
Then, in 1931, my folks bought a house at 608 Elefa Street in Roseville. Dad was manager of the Sterling Lumber Company. Dad put in a fish pond out in front, a bay window to look out at the fish pond, a detached sleeping porch on the west side to catch any breeze during hot summer nights in this pre-air-conditioned era. Mom got an electric Little Giant washing machine, Dad an electric lawn mower.
My parents built a summer cabin in the Sierras at Twin Bridges on what is now I-50. We spent a lot of time in the pines at 6,000 feet away from the Valley heat.
Dad purchased a 1931 Ford A-400 two-door convertible sedan with leather upholstery. An article in the paper bragged that it was the most expensive Ford ever sold by the local dealer, Saugsted Ford. Yeah, we were really in the height of the Depression by this time!
1933 came and we vacationed in Grays Harbor, Washington.
Then, Dad was furloughed by the company as construction stopped. Was disaster just around the corner?
Better prepared than most, Dad was a graduate of Cape Girardeau College, so I have no memory of his ever being home without a job. Instead, he took jobs where he could find them - a sawmill in Camptonville, up in the Sierras; Montgomery Ward in Reno; finally, another sawmill at Bear Valley on the Colfax-Grass Valley Highway. Mom and I followed him there to live in a company house. I attended the third grade in the one-room school in Bear Valley.
Then Dad found a more secure and better-paying job with Hayward Lumber Company in the Los Angeles Basin somewhere. I donít recall the location. We moved to Hollywood where I skipped the 4th grade and entered the 5th first at Selma Avenue School, then the Vine Street School so I wouldnít have to skitter across busy Sunset Boulevard.
A transfer took Dad to Bakersfield in 1935 with Hayward Lumber and a series of rented houses. I attended Eureka Elementary to finish the 5th grade, transferring to Hawthorne for the 6th grade.
Nine years old; I was presented a single-shot .22 rifle from Montgomery Ward. I also received a Hawthorne all-aluminum bicycle. At ten years old; I was given a Winchester pump-action .22 repeating rifle.
By 1936 or 1937, things had completely returned to normalcy. We bought a house at the corner of Eureka and Haley in East Bakersfield and Dad bought another new car, an ugly, brown, 1937 Ford sedan. Dad was recruited away from Hayward Lumber by Summer Building Supply as manager and the semi-nomadic lifestyle had truly ended. For a reason I donít remember or perhaps never knew, I was enrolled at Emerson Junior High, clear across town, when the other junior high, Washington, was not too far away. But, now I had two fancy aluminum Hawthorne bicycles, so pedal across town to school I did.
1938, I entered the brand new East Bakersfield High School after spending the summer in St. Louis with my sister, whose husband was playing baseball with the Cardinals. My 8th grade graduation present was flying home via Los Angeles on Transcontinental Western Airways on a DC-2 to Kansas City and a DC-3 from there onward. I flew unaccompanied on my first flight of the many to come throughout my life.
1940, as a bonus from the owners of Summer Building Supply, Dad was given a corner lot at Acacia and Skyline Drive, a superior plot of ground on which to build our dream home. Everything was ready to go as the house on Haley was sold and we moved into a rental on Pacific Street while the new home was to be constructed.
July, 1940, Dad, who was never sick in his life, was stricken with a ruptured appendix and was dead in four days at age 51. My mother with only an eighth grade education and never too swift, panicked. There was no insurance and the money that Dad had stashed for the new home was never found, despite prolonged searches by many friends.
Mom wanted to "go home" to Texas, so she liquidated everything possible including the í37 Ford, stored any remaining items in someoneís unused garage. We climbed on a bus and headed for Bells, Texas, and Aunt Pearlís house. Well, that proved disastrous. Aunt Pearl had no bathroom, but a terribly smelly outhouse and a bathtub in the house without water or sewer connections. Water was heated on the kitchen stove, poured into the bathtub and a hose drained it into the side yard. Now, this really was Depression-era existing.
I entered Bells High School where the major flap was that I had never taken Texas History. Big deal!
Anyway, the debacle or Diaspora ended when my brother-in-law picked us up there in Bells and drove us back to Bakersfield after not too many weeks - back to my beloved East Bakersfield High for the continuation of my Junior Year. Goodbye 19th Century Texas and its submersion in the Great Depression! My sister and their two kids had flown back to California for the off-season.
Thatís when the Depression became personal for my mother and me. No money, no job skills, no education, no house, no car, and a 15-year-old to raise. I went to work at ADS Market on Baker Street dusting and stocking shelves as well as delivering groceries around the neighborhood for Admiral Dewey Sprayberry (ADS), the owner. Supermarkets were still some years in the future.
Ken Updegraff, a pharmacist and Skipper of my Sea Scout Ship, hired me next as a soda jerk at his drug store. Finally, I worked at the Richfield gas station at 24th and H Streets for Bill Purdey, later the Undersheriff of Kern County. Bill was First Mate of the Sea Scout Ship. I frequently had to close the station at night, put the money in the floor safe and pedal my bike across town to East Bakersfield as Mom moved us continually from place to place. Fortunately, my top-of-the-line bicycle had a built-in light, horn and speedometer, but then the traffic was very light back in that era.
Bill Purdey suddenly joined the Marines, never paying me for a couple of weeks of work. Ouch! The station closed and I was unemployed. High school graduation was followed by my 17th birthday; I joined the Navy and never looked back.
Yes, a child of the Depression - sort of. All was well until my dad passed away, then the Depression hit Mom and me for a couple of years, quite unlike those tales found in "Reminisce" of never any money outside of mere existence or survival for years on end. Somehow, Mom even kept us from living in one of those chicken coops as are related in the personal stories of that magazine.
*************************************************************
GLIMPSES AND SNIPPETS OF A MEMORY OF CHILDHOOD
*************************************************************
Some things that are remembered forever:
Sister giving me an olive to eat right off a tree. Ugh! I was maybe three or four years old and we were living in Orangevale, California, just south of Roseville.
Sister driving me around Dadís lumber yard in Folsom in the 1927 Model T Ford pickup. Around and around with Mr. Parenti, the yard man, yelling,"Stoppa da truck! Stoppa da truck"
She did when she hit a lumber stack, knocking the lumber over the cliff and into the American River bed. Totaled the truck. She was ten. I was three. My head went through the plain glass windshield, slicing up my forehead. Safety glass was in the future. My foot was caught between the wooden floorboards and the frame somehow. It took several people to free me.
Dad was at the bank, just up the hill. He came down, put me in my wagon, making my sis pull me up the main street to our house. Sisterís nose was broken from hitting the nut holding the steering wheel in place.
Dad was transferred to manage the larger Roseville Sterling Lumber Company.
I remember my tiny Tootsie toy cars with white rubber tires which could be removed; I had a whole collection of them. Playing with them out in the backyard garden, in the dirt between rows of corn, building roads. Hot winds coming out of the north; too hot to play.
I can still see Dad mowing the lawn with a green electric reel-type lawn mower, tossing debris off the lawn to keep it out of the mower. Height of Depression; we had a new car, owned our house at 608 Elefa Streeet, electric washer, electric lawn mower.
An old man visiting from Oroville. A Mr. Wallis (?) went outside to smoke, fell into the front yard fish pond at night. It was a big joke for the adults.
My big toy Chrysler Airflow with battery-powered headlights was a favorite. Aunt Addie Thayer sat in the living room marveling at the lights while I "drove" the car. She was some kind of relative of Momís. Did she live by visiting relatives? Probably so.
Dad put shaving lather on my face with his brush! I got angry! Mom packed my suitcase with quilt scraps and I left home. I walked clear to the corner, only one house away. Deciding to sleep there for the night, I curled up on the suitcase. Dad came to get me, carrying his razor strop. He didnít have to use it; the mere presence conveyed a message.
Miss Brown with her grim visage taught first grade at Vernon Street School. I only spent a couple of weeks or less there. I already knew how to read, add and subtract. I was promoted to the second grade with loveable Mrs. Barber with her beautiful blonde hair. She bought Liberty magazines from me. Her husband owned and flew Rosevilleís only airplane, which he kept in a barn out in a pasture just to the west of our house.
I found a friend at school named Jesus. His face was horribly scarred from smallpox. Mom found out he was a Mexican. She said he couldnít be my friend anymore.
Vernon Street School had the bathroom in the ground floor "basement." Dirt floor. Terrible smell! School condemned and we moved to the Woodbridge School, brand-new.
Dad laid off, found another job immediately at Mrs. Hattonís sawmill. My family moved to Bear Valley where I entered the third grade in a one-room school. Narrow gauge railroad ran through Bear Valley from Colfax to Grass Valley, its tracks just behind the sawmill across the street from our house. I could put pennies on the track and get them smashed. Had orders to stay off the trestle.
Dad got a job in the L.A. area with Hayward Lumber Company as an estimator. I entered the fifth grade at Selma Avenue School - skipping the fourth grade. I have no memory of why I was advanced another grade. I had to cross busy Sunset Avenue, so my dad got me transferred to Vine Street School. I didnít want to leave motherly Mrs. Hammond.
Vine Street School didnít last long anyway as Dad was transferred again to Bakersfield.
Apparently, due to Dadís college degree, we did not suffer from the Great Depression. We did move quite a bit as businesses folded or down-sized, but donít remember Dad ever being out of work and sitting around home.
Ah, the dim memories of a little kid.
*************************************************************
A SHORT ARIZONA ADVENTURE
*************************************************************
Finally, after waiting during many, many months of broken promises, Daisy Manufacturing sent us two of their brand new Model 887, CO2 powered, state-of-the-art air rifles. They had been donated by Major of Marines Earl Lewis Halquist and Lieutenant Commander Colin McKee. Lewis and Colin were on the NROTC college rifle team that we coached eons ago. Susie Underwood, long-time San Diego friend, donated the adapter needed to fill the cylinders of the rifles from a bulk tank.
Hopi High Schoolís Army JROTC unit on the Hopi Reservation was to receive these rifles to bring its rifle team up to competitive standards. We have "adopted" the team in a casual sort of way. At our insistence the Lake Havasu American Legion Post 81 had already given the team spotting scopes, shooting stands, and the rest of the paraphernalia necessary to field a top-notch team to enter into state-wide and nation-wide competition. We had made the delivery of the Legion-donated equipment and we had held one of our Civilian Marksmanship Program 4-Day Clinics to sharpen the skills of the rifle team
After having plaques engraved denoting the donors, we left home on Sunday, January 7, 2007, to deliver the rifles to the Hopi Reservation. We drove to Winslow to spend the night at the Days Inn.
(I have a feeling that most motels are designed by women, else how could so many of the toilets be those tiny, round things that do not fit a male anatomy. Sheesh!)
A couple from Iowa was checking in just after us with the neatest little black dog. He fell in love with us at first sight and we with him. Monday morning before sun-up, we two couples were leaving at the same time and the little dog expressed glee in seeing us once again. What a cutie. His folks were snow birds going to Phoenix to escape the cold winters of the Plains. Upon determining our rifle-delivery mission, the question was asked, "Are the Indians friendly?"
We patiently explained that we would pick up a cavalry escort on the way up and that we both were heavily armed. We said we felt that we could fight off any attempt to take our scalps. Shades of John Wayne! Yes, the Iowans swallowed that, hook, line and sinker.
Our Monday morning breakfast was at the TA truck stop. We recounted the cavalry thing to the Navajo waitress who loved the joke. We proceeded north on AZ-87, then east on AZ-264 to the school located some seven miles west of the trading post at Keams Canyon. The weather was cold, but clear; the thermometer reaching only the 15 degree mark in Winslow on that Monday morning.
Driving the lonely miles through fantastic high plateau country dotted with perfect cinder cones and volcanic buttes and mesas, the routine was interrupted by three large, healthy coyotes crossing the road ahead of us in the early dawn. Miles from any human habitation, one wonders what sustained these song dogs. The road is always clear of any road kill critters over this barren terrain of sparse grass.
Arriving at the school, the guard at the entrance issued us passes and informed us it was 10 degrees. The sky was a clear, sparkling blue and the sun blinding. This was, what, our fourth or fifth trip to the unit, so we were familiar with the school.
Major Phil Taylor greeted us, introduced us to the class in session. Evan Martin and RaeLyn Harvey, both traditional Hopis with conventional American names, were in the class. These were two from the rifle team we had taught in our previous 4-Day Clinic. When the case was opened and they saw the rifles, they were ecstatic! Photos were taken and we left for home. First, however, we told the class about the encounter with the Iowa couple and again the story got a great laugh from the Hopis who appreciate such humor.
Leaving the school, we drove west past First Mesa and the Villages of Tewa and Polacca, past the junction of AZ-87 and on up the cliffs of Second Mesa. Passing by the Hopi Cultural Center, we bemoaned that the hour was too early to stop for a lunch of a Hopi taco on fry bread. Dropping down the cliff on the west side of Second Mesa, before we reached Third Mesa, we turned south on Indian 2 toward Leupp. It was roughly 50 miles of scarcely any traffic.
Startling cliffs of red sandstone held mesas atop them before we got to the expanse of barren, flat prairie taking us toward the Indian town pronounced "Loop" and seemingly without a raison díetre other than the railroad. It is a small town, almost exclusively Navajo, and we always wonder how it came into being. The Hopi Reservation is completely surrounded by the Navajo Reservation if you have forgotten your geography.
Here, we picked up the Leupp/Winona road. Winona of the song "Get Your Kicks on Route 66" fame. It goes "Flagstaff, Arizona, donít forget Winona." Winding down off the Navajo Rez, the road travels around dozens of cinder cones and lava upthrusts on its way to Winona. Gorgeous! We love to take that route for its sheer beauty.
Ah, joining I-40, we drove west to Williams and the Pine Country Restaurant, one of those funky eating places still found in small towns that feature excellent foods. I opted for the turkey melt with green chiles on sourdough. Marlene had a decadent dessert.
Lake Havasu City with its temperature reading 72F offered a nice homecoming. We stopped by Staples and bought a better digital camera than the Fuji we already have - a Sony DSC-W100. Now, both Marlene and I can shoot digitals with hopefully one of us taking acceptable images.
Another adventure completed. Oh, we dismissed the imaginary cavalry escort in Leupp, pretending to thank them for providing a safe trip through Indian country.
*************************************************************
CAN YOU GET ME A GUN?
*************************************************************
Now this isnít my usual story about hunting, target shooting, or even small arms, but it is about guns. It occurred back during the dark days of the Vietnam War, not in a galaxy far, far away, just in that remote outpost of civilization . . . Bakersfield, California.
The Navy had assigned me to recruiting duty in my so-called "hometown" where I had graduated from high school and begun my Navy career more than a quarter of a century earlier. As a Master Chief Gunnerís Mate and the senior recruiter, it was incumbent on me to join the Kern County Chamber of Commerce to represent the Navy and the Armed Forces. I, thereby, gained visibility and presence, "showing the flag" for the Navy.
Serving on the Chamberís Military Affairs Committee with me was an affable Army bird colonel from the China Lake Naval Weapons Center across the mountains in the Mojave Desert.
With this background, letís get on with the story:
It seems the band director for Bakersfield Junior College was an Army Reserve captain. Remember the time frame . . . 1968 . . . Tet Offensive . . . Haight-Ashbury . . . Berkeley.
The band director, incensed over the anti-American wave sweeping college campuses, later told me, "With patriotism in shambles the thought struck me that when the homecoming football game coincided with Veteransí Day, I could retaliate with a patriotic theme for the halftime ceremonies!"
The music was to be The 1812 Overture which features cannon fire culminating in a crescendo of blasts. The band guy had gone to the Army and then the Marines for assistance in creating the booming, but struck out.
"They couldnít help me," he said.
As a last resort, he called the Chamber which called me.
"Sure, the Navy will come through. When and where do you need this?" was my response without the faintest idea of how. He explained the details.
"Hm-m-m," I thought, "get a destroyer to come up the Kern River? Nope, itís dry. Set off some TNT or C-4 charges? No, might wreck the turf. Aha! Call Colonel Whatís-his-Name!" (Time dims the memory of names.)
"Hi, Colonel, this is Master Chief Duncan. Iíve volunteered for a special deal with the college. Do you have a 75mm pack howitzer I can borrow?"
After a brief explanation he allowed that I could indeed use one of the three he had.
He said, "Iíll have to order some blank ammunition from the Yuma Proving Grounds; all I have is the real stuff."
I felt that would take too much effort even though he offered to have it flown in.
"Could you use a 105mm howitzer instead? I can get one at Fort Irwin for you."
I responded, "Why not?"
Because for only one deployment was I one of those shipboard kinds of sailors, my Navy drivers license listed M113 Armored Personnel Carriers, M48 Medium Tanks, M8 Armored Cars, 155mm Self-Propelled Howitzers, and all kinds of trucks.
So, borrowing a 5-ton truck from the local Marine Corps Reserve and getting Chief Gunnerís Mate Gunderson from my office to accompany me, we met the Colonel at Fort Irwin. He had already made the arrangements and I signed out this huge cannon along with 50 rounds of blank ammunition.
Heading west on Highway 58 toward Bakersfield, darkness caught us at the town of Boron. "Now what?" I mused. A Western Auto Supply store sold us some wire and a tail light to hang on the gun barrel so no one would run into the cannon behind our behemoth of a big, slow truck. We continued on over the Tehachapi Pass to Bakersfield in darkness.
Oops! I completely forgot to make arrangements to park the truck and attached gun in the USMCR compound and it was locked up for the weekend.
"OK, all I can do is park on the street in front of my house. Iíll store the ammo in my garage overnight," I decided.
Saturday dawned and the neighborhood kids had a ball climbing all over the gun.
Afternoon. I drove the howitzer and a gun crew of Naval Reservists to the stadium (I lived only two blocks away) for liaison with the band director.
Another oops!
"I had visualized something like one of those little 10-gauge Winchester saluting cannons that people pull along in a parade with a string," he exclaimed.
Instead, he got our Army 105mm howitzer, a Marine Corps truck, and a Navy gun crew. He was ecstatic, although extremely surprised to say the least.
And so, halftime, The 1812 Overture. The band director would point to us and we would shoot. It was a cold night and as is frequent in the southern San Joaquin Valley, the air was heavy and not moving at all. We filled the stadium with smoke.
We broke some windows in houses across the street with the blast. We sailors had a whale of a lot of fun. The crowd was enthusiastic. The half-time festivities might have been great, but no one in the stands could see them due to the gun smoke.
Iíve often wondered if that band director ever asked to borrow a gun again. Iíll bet not from a sailor, at least.
*************************************************************
LEN DUNN AND NOBLE STUTZMAN
*************************************************************
I donít know if it was the Navy and World War II that got me hooked on the shooting sports. Dad bought me my first .22 rifle from Wards for my ninth birthday. Fred Mueller, who was the superintendent of the Richfield Pipeline Pump Station at Wheeler Ridge, south of Bakersfield, took me deer hunting. He also let me shoot his collection of rifles on my several overnight stays at the Mueller house out on the "lease." I was perhaps thirteen to fifteen years old then.
Fred had such wonderful old rifles as a Remington Model 8 in .35 Remington, a Winchester Model 1895 in .405 caliber, and various rimfire and centerfire .22s. Oddball stuff today that Iíd give my right arm to own. Wait! I do have a Model 8 in .25 Remington and a Model 1895 in .405.
It was Len Dunn, though, who taught me the finer arts of rifle modification, stockmaking, chambering and wildcat calibers. Len was one of a dying breed . . . that of a rig builder. Such rigs that are left now are all museum pieces, but until about the time of the Korean War oilfields were forests of oil derricks, rigs; wooden structures of varying heights, depending on the depth of the well. A rig builder constructed those derricks of huge timbers. Picturesque. Ugly. Signs of black gold.
Len was getting old and derricks were being made of steel right after World War II. He was a life-long bachelor, taking care of his invalid mother whom I never saw. He performed miracles with rifles in his shop behind his house on a corner on Pacific Street in East Bakersfield. Len built them, then tested them in a 50-yard tunnel which extended from the basement of his shop, under the backyard, the house, and front sidewalk.
Iíve long-forgotten why I first went to his shop, but he would show me wondrous things he could do with steel and wood. I would spend hours with him as he turned planks into stocks, converted barrel blanks into finished items, all the while patiently explaining in detail exactly why and how to perform every task.
Then, Korea flared and I went off to stop another aggression. Upon returning, I found that Len had died and I had lost not only a valued old friend, but a great teacher.
My love of steel and wood wedded together to form a firearm would not be stilled with Lenís heart, however. Noble Stutzman, the shop teacher at Bakersfield Junior College, had started to teach a short-lived gunsmithing class at night school.
Stutz was one of Lenís era, but he had lived longer, dying in his nineties a couple of decades ago. Stutzí class taught me more about wood working, welding, and blueing.
Would that I could visit with them and let them know of the pleasures the two of them gave me by teaching me the rudimentaries of the gunsmithing arts. Would that I could have become one of the skilled artisans in this field that they were, but it was not to be.
Although I have offered several of them the opportunity, young people of the new era just do not seem interested in learning such skills as I have acquired over my lifetime. I think it is a shame; especially since most of the Len Dunns and Noble Stutzmans of the world have passed on, leaving mostly gun mechanics, not artists, to carry the trade forward.
*************************************************************
DAD DIED, AND THEN -
*************************************************************
After my fatherís sudden and untimely death in 1940 many Bakersfield friends and acquaintances of the family seemed to take a good sort of pity on me. Among the most notable were Fred and Stella Mueller along with Walter and Lelia Buaas. The Sprayberrys and Bob Creasey also were there for my welfare.
But first, my mother in her panic of being alone with a 15-year-old son fled to her "home" in Texas, where she had not been in thirty years except for one short vacation visit. "Home" meant her sister Pearlís house in the village of Bells, but that is the subject of yet another tale. That panic was short-lived and we quickly returned to Bakersfield.
Walter Buaas owned Buaas Well Drilling Company in the highly profitable oil business during the immediate pre-war years of 1939-40. There were three adult Buaas children, Lelia, Marion and Clyde. Lelia was to marry and leave home during this period after Clyde was killed while speeding in one of the familyís Cadillacs. Marion graduated from Annapolis and was at sea on the cruiser USS Houston.
Among Walterís assets was a 425-horsepower Stinson Reliant, a big, gull-winged four, or was it six, passenger airplane. Sam was the company pilot. They decided that I was to learn to fly so I could solo by the minimum age of 16. Ground school came first to learn the rules, sitting in the plush leather seats while Sam patiently went over the controls, instruments and procedures. Then flights around the area of Kern County Airport while Sam demonstrated.
Later came the day when Sam took off and gave me the controls. A 15-year-oldís dream to actually fly an airplane - a 15-year-old who designed and built solid model airplanes and who was an avid reader of the World War One-centered magazine, "Flying Aces."
Alas, Walter allowed another company to use the plane which crashed somewhere in Texas, killing all on board and destroying my hopes of learning to take off and land . . . the lessons stopped a-borning. Sam was not on that flight so he survived although I shortly lost all track of him.
Marion came home some months after leaving the Houston in the Philippines not long before her sinking in the then-Dutch East Indies under the guns and bombs of the Japanese Fleet. He was appointed skipper of the minesweeper USS Pigeon at Cavite, P.I., eventually sailing her to the safety of Australia. LT Buaas gave me counsel about the Navy not long before I enlisted, sharing some of his adventures.
The Buaases both passed away while I was overseas and I lost track of Marion, too, but I still appreciate their efforts at helping a teenager cope with a traumatic period in his life.
As for Fred and Stella, they took me in even before Dadís death, for some reason or another. Fred was superintendent of the Richfield Oil Company pumping station out at Wheeler Ridge. The plant, pumping Kern County crude oil over the Grapevine to the L. A. area, was an isolated place, up in the beginning of the hills off Highway 33 and west of what is now Interstate 5. There was nothing out there but rolling hills, deep ravines and rabbits galore.
Fred was a duck hunter and a deer hunter! He introduced me to both sports. He even took me pigeon hunting up on Frazier Mountain. A gun collector, he had marvelous rifles - a .405 Winchester, a .351 Self Loading Rifle, things that would be worth a kingís ransom today, along with a whole rack of more common rifles and shotguns. I was in kid heaven when the folks took me out there for a couple of overnights with the days spent roaming the wild countryside with my Wards Western Field .22 single-shot in hand.
After Dad died, Mom had no way to get me out there, but Walter and Stella would drop by and always visited when they came to town. I would be included in the adult conversations with Fred showing interest in my model airplane building. Their much-older-son Walter later became Undersheriff of Kern County. I can only hope Fredís fabulous guns found a good home with Walter.
Mom claimed a distant kinship to Bob Creasey, who ran a denture prosthesis business in downtown Bakersfield. Bob was a member of the Optimists Club, sponsors of Sea Scout Ship 10, so you can imagine what came of that. Bob got me to join the Sea Scouts, which led me into the Navy within two short years. I can still smell the aroma of the melting wax in his labs, which were located in the building at the corner of 19th and Chester, which also housed F. E. Campbell, the dentist.
The Sprayberrys owned the ADS Market on Baker Street. Admiral Dewey Sprayberry was his name, therefore, try to deduct the period in which he was born - named after Admiral Dewey, one of the heroes of the Spanish-American War. Dewey hired me at 15 to stock the shelves and deliver groceries within the neighborhood in this era before supermarkets to augment the income of Mom and me. He was disappointed that I couldnít drive the delivery panel truck, but had to carry the groceries in a box to the various old folks who didnít wish to venture to the store.
Bakersfield was a friendly little town in those pre-war days. Nice memories, good people. My bicycle was my mode of transportation back then, taking me from the eastern outskirts of East Bakersfield - way out by East Bakersfield High, clear over to Kern County Union High, now Bakersfield High. In fact, living at the southwest corner of Eureka and Haley, I commuted to Emerson Junior High on Truxtun and "L" Streets via bicycle during my 7th and 8th grades. No wonder that my knees work so well during old age.
These memories of pre-war Bakersfield and its concerned people are comforting. What a nice place to call "My Hometown."
*************************************************************
THATíS WHERE THAT BASEBALL CAME FROM
*************************************************************
In the summer of 1938, I graduated from the eighth grade and would be attending East Bakersfield High School, then under construction. What a relief! I would no longer have to ride my bike from our house at Eureka and Haley . . . during that time at the end of nowhere . . . all the way across town. Every day, rain, shine or that dratted tule fog, I would have to pedal north one block to East 18th Street, then ride west to Union Avenue which was then Highway 99, the main north-south route in the state. Crossing busy Union with temerity, south one block to 17th, many more blocks west to Emerson Junior High School. I would have to retrace the route in the afternoon.
Because my sister was giving birth to her first daughter, Stanna Lee, my mother took me along to St. Louis where she would care for the new mom and my new niece. Therefore, I spent that summer in Missouri, where my brother-in-law was playing for the St. Louis Cardinal baseball team - the Gas House Gang. Stan, knowing I was bored with doing nothing, obtained a season pass for me to attend the games, taking me to the ballpark with him. I was shocked. It was the first time I had seen naked men, in the dressing room as they prepared for the game and showered afterward! Remember, I was twelve, just turning thirteen later that summer.
The best part was that the team sort of adopted me, all of them signing a baseball with the likes of superstars of the day such as Ducky Medwick and Pepper Martin inking their signatures on that ball. The ball resides today in one of my safes ensconced in a special plastic holder wrapped in a bandana to keep it safe from ink-destroying light.
Itís worth? Iíve never had it appraised.
There was another "best part." In order to get home in time to go to high school, I had to fly home alone via TWA, Transcontinental Western Airlines. Taking a DC-2 from St. Louis to Kansas City, I changed to a DC-3, stopping in Amarillo to refuel before going on into Los Angeles, where Dad picked me up for the drive back to Bakersfield in our Ford.
A priceless baseball and my first plane ride all in one summer of innocence. It was quite an experience for a now-13-year-old.
*************************************************************
BITTER ELATION
*************************************************************
The time - around 1990 or perhaps 1991.
The place - Camp Perry, Ohio.
The event - The National Smallbore Prone Rifle Championships.
Marlene and I were shooting the 100-yard stage of 40-shots; she with her Anschutz 1813L, while I was using my highly-customized Winchester Model 52-C, Ďsmithed by Karl Kenyon of Ely, Nevada. A strong but steady wind was blowing off of Lake Erie from about the 1:30 or 2 oíclock direction.
My 40-grain Lapua Dominator bullets were leaving the muzzle with the left turn blinker on! But, because it was a steady wind without gusts, my spotting scope was showing me 10ís and Xís. I was on a roll!
Now, understand that although I shot on a Navy smallbore rifle team for some 24 years, I never did become a champion rifleman. I just enjoyed the sport, mostly concentrating on getting others to join in and coaching them to fame and glory.
At the end of my 40-shots, my scope showed me that I had dropped only 2 points - my score was a 398. I just knew that I had won my Classification of Expert for that match! Better check the target of the shooter to my left.
Yes! Nines all over the target!
How about the target of the shooter to the right of me and I can be sure that the match is mine. Of course, this was a National Championship, so there were some 200 or so competitors shooting, but in this wind?
This was Marleneís target. She and her rifle had been putting her RWS R-50 bullets right in there, too! She had dropped only 1 point out of the possible 400, so my 398 was outranked by her 399. Bitter elation to be beaten at your own game by your own wife!
Oh, many other competitors had been conquering the weather conditions, too, so that my 398 was not even close to being "in the money."
By the way, to provide context, one must average a 99.5% to be ranked in the Master Class in this game.
*************************************************************
BOOTS, BOOTS, BOOTS
*************************************************************
Logistics in the South Pacific Theater of Operations were not good in 1943, becoming somewhat better in 1944 as the war effort on the Homefront was getting into high gear. The Pacific war had been put on the back burner as far as supplies were concerned until after the defeat of Hitler.
For instance, only one kind of shoe was available to those of us who crewed the "Mosquito Fleet" of PT boats in Admiral Halseyís Navy. These were combat boots.
Combat boots were sturdy rough-outs with heavy soles. The high tops were capped with a sort of leather gaiter with two buckles. They were great for slogging through the mud and tangle of a jungle, but not very good as a boat shoe.
Yankee ingenuity, however, prevailed involving the liberal use of the combat knives we all carried. We simply cut the boot into a sandal, throwing away the surplus of useless leather. The resultant holes let the perspiration, sea or rainwater escape, preventing the fungus we called "Tulagi Rot" from infecting our feet as had happened to me.
The sandals were lighter in case we had to go over the side into the ocean for whatever reason. Intact boots might cause us to sink. The heavy rubber soles allowed us to navigate over the sharp coral abounding throughout the region without cutting our feet.
War, always a huge waste of resources, meant that people back home were having shoes rationed so that the leather could be diverted for the use of the troops, while we were throwing away the useless excess.
Todayís many varieties of sandals, coral shoes and river shoes would have been great, but like so many things, these were in the future.
*************************************************************
THAT WAS ONE HUNT TO REMEMBER
*************************************************************
This occurred far back in time when I was not much more than a kid. I was just back from a couple of tours in the tropic isles of the far-west Pacific Ocean and eager to return to hunting . . . deer, instead of people.
Charles was the little brother of that leggy, gorgeous, raven-haired beauty who had gone and got married during the years I was growing up in remote places devoid of civilization. Too bad, Marguerite was an extremely beautiful, sexy woman, albeit a year or two older than I.
Charles had been out deer hunting with an ancient French 8mm Lebel rifle on Greenhorn Mountain a few times without success. We somehow got together to arrange a hunting trip. We went from Bakersfield up through the Kern Canyon to the area above the sawmill at Johnsondale to get some meat.
I had acquired an old .41 Swiss, a 10.4mm Vetterli, at a second hand store; this was before all the gun control legislation involving Federal Firearms Licenses, et cetera. The rifle was made in 1881, being sold as surplus by the Swiss Army to the American market before the First World War by Francis Bannerman, a New York importer.
I found a source of some Remington rimfire ammunition for it from Philip J. Medicus, another New York company and wanted to try shooting a deer with it. The gun shot a 300-grain lead bullet at 1300 feet per second, about a usual set of ballistics for the 1880 era. I took along a sporterized Springfield Model 1903, too, but I really wanted to see how the Vetterli performed.
Charles and I talked about how to gut out a deer and how to drag it out of the woods, sharing our knowledge . . . his from books, mine learned first hand while still in high school from Fred Mueller, an old family friend.
Almost two miles away from where we had parked the car, along came a deer running almost at us. It apparently had been spooked by something. Charles couldnít get his World War One French 8mm up in time, so I let fly with the Vetterli, hitting the big three-pointer right behind the shoulder at about thirty paces. The prime buck died in mid-stride.
It became lesson time for Charles. Showing him where to make the first cut, his knife went in and his stomach came up. I had to finish field dressing the big rascal while Charles revisited all of the meals he had eaten for the past few days. It left him so weak that I had to lug that animal all that long distance back to my lettuce-green 1939 Dodge coupe with very little help from Charles. It took us most of the day.
I never did go hunting with him again. He may have forsaken the sport, for all I know. But, boy, was his sister good-looking. I wonder if she and Carl stayed married?
During my senior year in high school, she would drop by the house once in a while to see my own designs of solid model airplanes. She had recently graduated and married a restaurateur who was many years her senior. I can still see those gorgeous, long, high-heeled legs, her skirt was always "accidentally" far above her knees as weíd sit and discuss airplane design. As I grew older, it finally dawned on me why she came over only when my mom was not home.
Duh!
I graduated and went off to war . . . came back married and waved at her a couple times as we passed while driving.
My vision of her is as she was in the 1940s. I canít imagine her now being over 80.
Yes, I still have that old Vetterli and even acquired two more of them just because I am still intrigued by the design. I did trade the Ď39 Dodge for a brand-new, robinís egg blue, "bathtub" 1950 Nash Statesman, however.
In case someone else wants to try one of those .41 Swiss rifles, forget it. The rimfire ammo now is available only as collectibles as single rounds for a minimum of gosh-know-what per round. Iíve heard that the last production was prior to World War II.
*************************************************************
DOLAN SPRINGSí MT. TIPTON K-12 SCHOOL
*************************************************************
Driving the two hours up to Dolan Springs from home to address the 4th, 5th and 6th graders for the Joe Foss Institute, the trip was uneventful. The weather was sunny albeit cold. Now, we arrived very early, so Marlene drove on toward Meadview on the narrow road to kill time and explore new territory.
Shades of Cartolandia, that section of Tijuana back in the Ď60s when people lived in cardboard shacks near the border crossing! Here in the village of Dolan Springs, Arizona, were seemingly hundreds of hovels the majority of which were once single-wide trailers, most with add-ons of sorts. Perhaps half were abandoned or looked to be so. None seemed to be stick-built conventional houses. The unseen inhabitants had to be living far below the poverty level. We had long-ago learned that at most of the "homes" water had to be hauled in. Imagined were people who had either given up on life or maybe had reached retirement age without adequate planning - except there was a school in this sad collection of shacks! A very nice school with the usual appointments found in an urban school.
Dolan Springs includes at its eastern side and at a higher elevation, a dramatic Joshua tree forest with some the most starkly beautiful desert trees imaginable. The abodes, if I may call them that, are scattered among these prehistoric-looking giants. These remote relatives of lilies are huge and clustered thickly.
We had been Mt. Tipton School before, but hadnít traveled to the east past the school on the road that leads to the famous Indian glass bridge over the Grand Canyon. The western area of town has mostly trailers, even for businesses, with an occasional stick-built structure scattered here and there in comparative prosperity to the area east of the school.
Returning to the school, we parked, made our way into the nice school office, greeted by the principal and counselor whom we remembered from last year and the 6th grade teacher was called to come escort us to her classroom. As the kids began to file in, one recalcitrant little Latino (or perhaps Indian) boy rebelled at everything. He refused to sit with the other students, he barricaded himself behind stacked desks before the lower classes entered with all sitting on the floor. He defied the conventional.
I was so empathetic with that boy that my presentation undoubtedly was the worst I had ever given. He needed cuddling and reassurance along with great quantities of TLC. We had just driven through Povertyville, USA, and my thoughts were struck with where that child had to live - and how he was learning to survive. Talk about flashbacks as I recalled the Okies - Dust Bowl refugees -- living in "Hoovervilles" made from every sort of salvaged material in the river bottoms of the Kern River in Bakersfield of the 1930s. We saw abject poverty at Dolan Springs reminiscent of scenes out of Africa, not my America of the 2000s.
Of course, sited in the stark desert mountains, some 40 to 50 miles from the county seat, most social resources probably are on the non-existent side. Dolan Springs is some five miles east of US-93, the main route from Interstate 40 to Las Vegas via Hoover Dam; the road dead-ends at Lake Mead.
We had heard that the main occupation of Dolan Springs was cooking - cooking meth in home-made labs. We can believe it.
With those scenes in my mind, I began to deliver - what? My train of thought was totally awry. That young lad was in dire need of intervention. The flags we brought of three nations that did not exist when I was in combat there were displayed almost without explanation. I never did expound about veterans, explain who Joe Foss was, about why I was wearing a Navy jacket replete with ribbons and devices. I stuttered, stammered, while Marlene was trying to bring me back on track. After all, this is the third year we have been giving these presentations, but that child - probably heading for a life of crime should he survive into adulthood - was haunting me. He was silently screaming for attention by someone who cared.
The teachers with so many of these children living in squalor - yes, squalor is the proper word for this primitive village spread out over the desert - that they must be overwhelmed and just do the best they can. The vast majority of the kids were white and this haunting child was definitely of Mexican or Indian heritage. I never heard him utter a sound, but his actions screamed a crescendo.
So, after stuttering and stammering about something, the time ran out and I was rescued by some darling little girls who wanted me to observe them as they lowered the flag in front of the school signaling the end of the day.
I let down Joe Foss and his institute with a lousy performance. That child will haunt me forever, probably. This group brought our count to 17,500 students that weíve addressed for the Institute and never have I been so struck by a child in such need. Yes, when I did my student teaching at North High School in Bakersfield, California, there was another youngster who was in trouble. My college instructor in Education explained to me that this was a hopeless case that was beyond anything a student-teacher might manage. That young man, not an elementary school child, rocked in his seat almost uncontrollably. That was a mental case.
Yesterdayís was a child, still almost a baby, screaming silently for help in living and growing into manhood.
Before we returned to Kingman and dinner on our way back to Lake Havasu City, we learned that most if not all of the teachers live in Kingman and carpool in a school-supplied van to Dolan Springs, Arizona. We understand why!
*************************************************************
HALLOWED GUN
*************************************************************
In my almost three-quarters of a century handling all kinds of firearms in a few more than three wars and even shooting in several national rifle championships, they finally cut through my blasť. Let me explain.
It was in 1993 while Marlene and I were on a special V.I.P. tour of "the vault" of the National Rifle Associationís National Firearms Museum in Fairfax, Virginia, at the personal invitation of NRA Secretary Jim Land. Marlene and I both hold Benefactor Memberships in the NRA.
Thirty-three hundred guns; all unique, highly collectible, remarkably preserved . . . true museum pieces. Not yet on display, these were still in "the vault," the Fort Knox of firearms, far down in the dungeon-like recesses of a sub-basement at NRA Headquarters.
With my undergraduate degree in History, these mostly American firearms meant something more to me than mere artistsí and artificersí efforts. I was relating them in my mind to the chronology of our nation as it developed.
As Doug Wicklund, the curator, led us past racks of rare long guns, tables of 21-shot revolvers (!), general officersí presentation pistols and other military small arms, we were overawed. It would take weeks to thoroughly explore this place. Along with climate control and a special wax used to preserve the guns not to mention the temptation to touch, we had been issued white cotton gloves upon entry.
While being shown ancient hand cannons and matchlocks from the 15th and 16th Centuries in Europe, made even before the Pilgrims landed on Plymouth Rock in 1620, Doug handed me a wheel lock long gun.
Remember the Pilgrimsí legend of Priscilla, Captain Miles Standish and John Alden? John pleaded Miles Standishís love of Priscilla and she responded with, "Why donít you speak for yourself, John?"
"According to the Smithsonian researchers, this gun came over on the Mayflower and belonged to John Alden," Doug told us. And I had it in my white gloved hands!
With very deep emotions, I was actually holding, yes, fondling, John Aldenís musket! My own family history sketchily dates back to the 13th Century in Scotland with my American ancestors having arrived in Virginia not long after the Pilgrims disembarked in Massachusetts. Is it possible that my forefather had brought such a gun across the Atlantic, too, when he arrived in Virginia in 1654? That also set me to wondering what had happened to it, if it ever existed. Was it used to feed his family? Was it used by his son who was a Captain of Militia during Baconís Rebellion?
Actually holding John Aldenís own musket remains one of the highest points forever etched into my memory and the eerie reflections of its own journey through time were impressive. That was not just another firearm. It was a tactile link to the founding of the America we love today. History was no longer a story, a tale of events, but history that I held in my hands.
*************************************************************
THE HAND THAT SHOOK -
*************************************************************
Iíve always bragged about shaking hands with Ronald Reagan when he was just beginning this run for governor of California; of shaking hands with Charles Lindbergh when he was riding my PT Boat in the South Pacific; of shaking hands with Babe Ruth at Ebbets Field in Brooklyn after being introduced by my ex-brother-in-law; of shaking hands with John Wayne at a PT Boaters reunion in1967. At a Shooting Hunting Outdoor Trade Show I even shook hands with Scott OíGrady who was shot down over Bosnia and escaped; then there was Chuck Yeager at an NRA Convention; comedian Buddy Hackett at another NRA Convention. Then there had been a half dozen or so Medal of Honor recipients whose paths crossed mine.
Wait until you hear who else.
Iím a staunch conservative and a mediocre Republican. I voted for Truman in my very first eligible election just after World War II as a Democrat because my father had been a Democrat. The first thing that President Truman did was return me to a war, the same as Democrat President Kennedy did the next decade. Need I say that I re-registered as a Republican on my return from the Korean War?
Well, when my Great-great Nephew Brian Abrams turned thirteen in 2001, Marlene and I just had to attend his Bar Mitzvah down in Fort Lauderdale. But, first, Niece Mary Pat Taylor, his grandmother, had to take us to The Emerald Club for a St. Patrickís Day breakfast. We didnít quite comprehend that it was "a cast of thousands," with five hundred of the local and state politicos in attendance.
We were a minority of Scots surrounded by hundreds of Irish-for-the-day, mostly with Jewish sounding surnames. Son Jeff even wore his Duncan tartan kilt and his full Scottish regalia, coming down for the occasion from his home in Chattanooga.
Among the celebrities there was Janet Reno, herself, in her quest for the governorship of Florida. Jeff and his Laura had a snapshot taken with her. She didnít realize that it was a joke for them. After her stellar entrance, Janet proceeded to table hop, campaigning all the way.
Sitting in my usual spot in the farthest corner of any room, I thought I was safe, but the former Attorney General and staunchest defender of Bill Clinton, found me. There was no other way out and I had to shake hands with her.
Did I besmirch my hand completely by so doing . . . the hand that had been honored by so many heroes? By the way, when I hastily remarked we were visiting from Arizona, the candidate scurried to other tables.
*************************************************************
JEANETTE
*************************************************************
She was a classmate at Emerson Junior High during the 7th and 8th grades and although a trifle older than I, I being one of the younger kids in our grade, she caught my still-developing eye. She was a beautiful little girl back then.
But, she went on to Kern County High School, while I attended East Bakersfield High across town, so I lost track of Jeanette. Her dad owned a clothing store on 19th Street.
On my first return from the Pacific wars in 1945, I wandered into the store to purchase something or another and found Jeanette clerking there. No longer a beautiful little girl, she had grown into a ravishingly gorgeous young woman. A conversation followed and a date was set up. Wow! Beautiful Jeanette would actually go out with me. I was bedazzled!
When I returned to store at the appointed hour to pick her up for what was probably a movie date, I was met by her two older brothers, who now ran the store. They politely, but sternly, told me that my faith - or perhaps lack thereof -- was not compatible with their sisterís and that furthermore because of that my attentions toward her were not desired. Jeanette was nowhere to be seen, nor have I ever seen her since.
This was my first personal encounter with prejudice of this sort. I was only 19. It was not a pleasant experience. Gosh, it was only a date. I wasnít planning on marriage.
*************************************************************
NGUYEN CAO KY
*************************************************************
It was in 1975 when the U.S. had pulled the rug out from under South Viet Nam and the Communist North Vietnamese had overrun Saigon. Thousands of South Vietnamese refugees who had escaped the onslaught of the Communist army were being sheltered at the Marine Corps Base at Camp Pendleton, California.
It so happened that I was doing my "two weeks of Active Duty for Training." In fact, I was on the PTF-26 at the dock at the Naval Amphibious Base at Coronado when a messenger came down to inform me that my wife had called with an urgent message. I went to the head of the dock to call her back, knowing that Marlene would never call me when on duty unless something dire had happened - such as a nuclear attack or the sky had fallen.
Marlene told me that someone had called from the "White House Staff" and was looking for me. She gave me his number. I called his local San Diego number.
The guy on the other end of the line said that I was to report in civilian clothes, a suit and tie, carry a suitable firearm, to a certain gentleman at the Town and Country Hotel - as fast as possible. Well, I was wearing green fatigues, boots, and needed some time to drive home to El Cajon to change. The gentleman said that if I had a good camera, I should bring it to get some great historic photos. I would be gone on this assignment for several days. No further information except that the Squadron Commodore had approved the assignment.
Neither Marlene nor I were surprised, because over the many years of my Naval service, I had been called upon occasionally to perform some special task. The special assignments were sometimes of short duration, sometimes a little longer, sometimes near at home, sometimes as far away as in the Western Pacific.
I called home to ask Marlene to lay out a suit and pack a bag with a couple of dress shirts, underwear, shaving kit; the usual weekend travel stuff. I drove the 25 or so miles home, changed and went down to the hotel to meet the most nervous man in the world. He introduced himself, probably not his real name, anyway. I still have no idea for whom he was working.
He explained my job. The Vice Premier of South Viet Nam Nguyen Cao Ky who also bore the title of Air Vice Marshal Nguyen and his devastatingly beautiful wife, Mai Ling, were staying there. The Vice Premier of a country that had just been allowed to be overrun by Communists due to American political meddling, was in town to address the Reserve Officers Association. The scenario was that there may have been some political dissidents or Viet Cong among the refugees encamped just up Interstate 5; infiltrators who might assassinate the Vice Premier.
Technicians had wired all of the doors and windows, establishing a perimeter barrier alarm. San Diego City cops patrolled the areas outside of the building. I was to be the last line of defense, staying in an adjacent room within the Nguyenís suite, guarding them night and day.
When we were out of the suite to attend one of the functions that included a banquet, anyone approaching the "Vice Premier without a country" had to be wearing a silver Avery label dot on his or her lapel as having already been cleared. Anyone else was to be stopped, frisked and turned over to the cops.
It is probably little-known that it is the Vietnamese custom to list the last name first, hence the many generals, colonels and others who addressed him as Vice Marshal Ky were calling him by his first name. Not my job to correct them!
The entire assignment lasted just three or four days. The Vice Premier was very nice to me, never inquired about my background after I was introduced as being a Navy SEAL. His wife was charming and absolutely gorgeous even in the morning without her make-up.
Marlene reported that she had been contacted every day to ensure that she was all right. The Marvelous Marlene? She would be all right even under that nuclear attack or a fallen sky!
I understand that the Air Vice Marshal departed for Virginia, but ended up settling in Orange County, California. I went back to Coastal River Squadron One to finish my two weeks of training. I never did find out for whom I was working - Secret Service? FBI? The Reserve Officers Association? Just another one of those Rent-a-SEAL jobs.
I did take several historic photos, none of which might win a prize. You canít survey a crowd and compose pictures, too.
*************************************************************
THAT LAST NAVY SHOT
*************************************************************
May, 1985, just a month before the Navy retired me for becoming sixty years old and instantly senile; the Pacific Fleet Service Rifle Championships were being fired. Why not? I was on active duty for a special assignment, finishing my Navy career, when the Chief of Staff, Captain George McCauley, granted me permission to shoot the Championships.
I took my trusty M1 Garand out of the gun safe to participate. The rifle had been worked over and rebarreled to 7.62 NATO (.308) by the Navy Small Arms Training Unit, turning it into the proverbial tack driver.
To shorten the story, it was my last shot of the tournament on the last day of the championship. It was also the last shot I would ever fire as a member of a U.S. Navy rifle team. My next-to-last-shot at the NAS, Miramar range had hit the "X-ring" in the exact center of the bullseye located 500-yards away.
Well, you canít see a third-of-an-inch hole in paper at almost a third of a mile away, of course, so a pit crew will haul down the target to insert a wooden plug with a 3-inch white cardboard disk in the shot hole. The crew will then hoist the target back up so that you can look through your spotting scope to make any sight adjustments necessary.
I checked. Satisfied that the shot was almost perfect with everything looking good, I slowly squeezed off my final shot.
Well, the bullet of my very final shot not only hit the three-inch disk, it hit the small wooden peg that held the disk in the previous bullet hole. Two shots, one hole at 500 yards! The pit crew was so elated that they brought me the disk, peg and all.
No, this is not just a "sea story." I mounted the disk and peg on the plaque that each of the shooters on my team was presented for winning the "USN 1985 Pac Fleet Rifle Match." Today, it hangs on the wall in our office where visitors can view it.
Oh, of course, it was just a quirk of nature - neither the rifle nor the ammo nor I could accomplish a feat like that on purpose. It really was a nice way to finish a long nautical career, however.
*************************************************************
MESS KIT SPECIAL
*************************************************************
This is a tale from an island far, far away at a time long, long ago.
Specifically, Stirling Island in what is now the nation of the Solomon Islands.† Food was very, very scarce and monotonous as our little, green "plywood" warships, actually just overgrown speedboats,†tied up to the trees in one of several inlet arms.† We could rest there, rearm and refuel before going out to beard the Imperial Japanese Navy and Army in their own lairs.† The trees provided cover from the constant air raids with Jap planes hoping to smash our puny onslaught against them.
We were all in danger of contracting scurvy with the shortage of nourishing, fresh food, so the cooks on our boat, a guy named Larson, a Shipís Cook First Class, decided to build us a stew. France, Shipís Cook Third Class, who was his helper, were really not doing much as "belly-robbers" or "stew burners" otherwise. They were included in the crew mostly to man the guns. The PT Base, was it 9 (?), was supposed to feed us after we had trekked through the jungle and after we had dipped our mess kits in a boiling, 55-gallon drum of disinfectant.
Now, the PT-103 for some odd Bureau of Ships reason had in its equipage a couple of .22 rifles down in the armory just behind the wardroom. And flocks of white parrots or perhaps cockatoos lived in the trees we were hiding under. "Parrot stew" it would be, so a couple of us began "harvesting" the birds. They would land and they would die.
Finally, we had collected enough so that with some withered vegetables begged from a nearby seaplane tender, we kids could feast right there on the boat. We had to be very careful to avoid the tiny bones. The beautiful birds filled our empty bellies and we enjoyed a respite from "corned willy," "meat and vegetable stew ration" and whatever that was in cans labeled as "Vienna sausage."
Later, our diet became largely coconut as those three entrees became unbearable. Ripe coconut like you can buy in a supermarket. Green coconut with a Jello-like substance and overripe coconuts containing a palm tree bud that became our "salad."
Little did we know that shark was delicious and even octopus tastes great. The "word" was out that most of the tropical oceanís denizens were poisonous!
For some still-unfathomable reason the Navy always provided canned grapefruit juice for us to be forced to drink, also to prevent scurvy. A canteen cup of that was used to wash down the daily Atabrine tablet that was supposed to prevent malaria. If the Supply "wienies" managed to get that vile stuff to us, we called it battery acid, why didnít we get better or at least a larger variety of food?
The point? To this day, no grapefruit and no coconut. Now, I havenít tried parrot stew of late . . . . . . . ,
*************************************************************
FOLSOM PRISON BLUES
*************************************************************
Not too many of my friends and relatives are aware that I spent some time in the Folsom. Yes, indeed, I was hard core. . . back in 1932 . . . when I was seven.
Hereís how the plot unfolded:
Our family doctor had his original office in Folsom, California, where we once lived before moving some twenty or so miles away to Roseville. The doctor also shared an office in Roseville with Doctor Tom McAnally.
Doctor Proctor William Day was an absolute god to my mother who simply worshipped all doctors, anyway. He had become our physician while we lived in Folsom. He was single at the time, spending many evenings with us at the Staunton House, our fancy rented home on the hill above town.
I remember Mom making waffles on our new, state-of-the-art electric waffle iron when I embarrassed the whole family. As the dough bubbled out, I yelled, "Quick, Mom, itís aíslobberin."
Such talk with Dr. Day there! No wonder I was later to receive formal lessons in elocution to teach me correct diction along with manners. While I canít remember the way my father spoke, Iím sure that he must have retained some of the Missouri Ozark accent of his birthplace. My mother certainly had enough of a Texas twang that she never was able to pronounce the L in twelve. Excuse the digression.
Dr. Day was also the Folsom Prison doctor, so when he determined that my tonsils had to be removed he drove me from Roseville to the prison infirmary to yank them out. I have no memory of where my mother was, but I clearly recollect the imposing granite walls and the big gate. He drove us right into the prison in his 1931 yellow Chrysler convertible, the kind with the spare tires on the front fenders, wire wheels and all.
Inside, his assistant was a trustee . . . a prisoner! I was aware of that and was a trifle wary of his presence.
The operation complete and still recovering from the ether anesthetic, Dr. Day put me in the front seat of his beautiful automobile, but my tummy had not quite recovered. Yes! I upchucked right there in that gorgeous car!
He drove me back to Roseville where ice cream awaited to soothe my throat, ending my memory of that part of the adventure.
Doctor Day became Commander Day during World War II when he joined the Navy. He was stationed at Treasure Island when I passed through there en route to the South Pacific in 1943. My mother somehow arranged for us to meet. I was invited to dinner with him and his wife; that being the last time I had contact with Dr. Day, but thanks to him, I can brag that I spent time in Folsom Prison.
pt103.com note: I asked Jack if he meant Treasury Island in the above story, he let me know:
Treasure Island was built of dredged material in San Francisco Bay adjacent to Yerba Buena Island specifically for the 1939 World's Fair or Exposition. It was rumored to be used later for an airport (?), but it was too short for the larger planes and the builders also forgot about the persistent SF Bay fog. Then WW II hit and the Navy used it for a Receiving Station and had some schools there.
*************************************************************
THE DAY I THOUGHT I WAS GOING BLIND
*************************************************************
It was over at Prescott on Labor Day; sometime in the early 1980s. Marlene and I had driven over from San Diego to shoot the Arizona State Smallbore Prone Rifle Championships. My Winchester Model 52-C was in the shop for some modification, so I was using my old back-up rifle; an ancient British Martini with its Parker-Hale tube sight that had been imported by Al Freeland shortly after the end of World War II. Albeit ancient, ungodly heavy and awkward, it shot very well. A tube sight was sort of like a short rifle scope, but without optics.
It was not my best day. My whine was that I wasnít accustomed to the heavy gun, the "sloppy" Freeland trigger or the tube sight. No one seemed interested in my whining, anyway. I was just not up to my usual mediocre performance. I was popping away trying to hit the X-ring, but throwing a couple of 9s along the way - wishing I were doing something more pleasant like mowing the lawn or washing the car. My concentration had wandered off to Valhalla or someplace.
In the middle of a string as I reloaded the old single-shot, I put my eye back up to that tube sight to try to get another .22 round downrange. I hated that tube sight that had been state-of-the-art about the time the Donner Party was camped out for a winter barbecue up in the Sierras. Instead of nice, crisp view of the front sight and the bullseye way down yonder, there appeared to be a problem with my eye.
Taking my head away from the stock, I dabbed at my eye. Is this some sort of strain? Looking through the sight again, there appeared to be some fine hairs moving around inside the tube!
What was wrong with my vision? Are my eyes failing?
I opened the action, then put the rifle down and sat up. I wiped at my eye thoroughly.
Looking around, there was no problem with my normal 20/20 vision.
With my eyesight apparently fine, I resumed my prone position and looked through the sight again.
Dang! No nice round aperture and again those moving hairs! Now, wait a minute! There had to be another reason other than my eyes, so I took the rifle off the line and unscrewed the tube.
Inside was one of those little black wasps that my dad had called "dirt dabbers" and it was depositing mud inside the tube to build its nest. Hey, my shooting was bad, but this was the ultimate insult!
Of course, the Match Director wanted me to declare a disabled rifle and refire, but my scores had been so lousy that it would just tie up everyone to no avail. Waiting for Marlene to finish firing the match, we went back to the motel to forget that tournament. The indignity of a tiny wasp usurping my sights for its home - right while Iím shooting!
I long-ago foisted that Martini off onto someone who coveted it. I donít recall who, but it needed a resting place in a gun safe as a piece of history and not on the firing line.
*************************************************************
TURKEY DAYS
*************************************************************
On this Thanksgiving Day of 2008, I was recalling earlier times while field stripping our 23-pound bird with Marlene. The memories are still rather sharp, although Iíll have to admit they are being dimmed by adventure after adventure in a long and enjoyable life, so letís see what will come to the surface of my memory banks.
Thanksgiving 1943 after Eleanor Roosevelt had visited Admiral Bull Halseyís South Pacific Theater of Operations and even the island of Rendova in the Solomon Islands Campaigns that were still raging, although Rendova itself was secure. She was appalled so the story went of the ferocity of the fighting and the savageness of the sailors on the little, green, wooden boats labeled PTs; especially the aftermath of the Second Battle of Kula Gulf. One of her promises was that every man (there were no women) in the area would have turkey for Thanksgiving. My exact location is hazy - was my PT-103 at Stirling Island in the Treasurys or even farther north up at Cape Torokina at Bougainville? We operated alternately out of both places.
At any rate, Eleanor was correct as I, along with the rest of the crew opened our little, gold-colored tins of "Boned Turkey" and ate our turkey dinners. Each can served some three or four guys and the taste was not even remotely reminiscent of a home-cooked roasted turkey dinner.
Thanksgiving 1944 and Motor Torpedo Boat Squadron 5 was moving up after a seven-month sojourn at Emirau Island in the St. Matthias Group. We had been operating against the northern approaches of the major Jap base at Rabaul, isolating the long, skinny island of New Ireland and its smaller neighbor, New Hanover, from resupply of the large garrisons stationed there.
Our 12-boat squadron, reduced now to seven boats through losses, was ordered to move up to Mios Woendi of the Schouten Islands of the far eastern fringe of the Dutch East Indies near Biak. As we stopped at the huge base at Manus in the Admiralties, we were agog after our long isolation to see the Pacific Fleet with carriers, battleships, cruisers, destroyers and every other type of warship of the Allied forces.
We had tied up alongside a wooden-hulled minesweeper, the crew of which thought they were serving on a small ship. The crew of the minesweeper, taking pity on the motley crew of the PT, dressed literally in rags, gave us the carcasses of the turkey dinner they had consumed.
I have a sharp memory of picking over the carcass of a small bird all of my own and relishing the flavor. I was down to a pair of gray, salt and pepper shorts and a blue and white polo shirt that had surfaced in a bag of wiping rags we had acquired. Strictly civilian attire in a war zone. Our GI-issue clothing had long-since rotted in the jungle humidity. I weighed 120 pounds due to the horrible rations we had to eat during our extended stay in the hot backwaters at Emirau, existing largely on coconuts, unaware that sharks were a delicious source of food. After all, they had been consuming lots of American and Japanese sailors; ergo, eating one might be a form of cannibalism.
During our brief resting period at Manus, waiting to escort a new PT Boat Tender, the Cyrene, to Hollandia in New Guinea, I was invited to come aboard the HMAS Warramunga to learn the secrets of the torpedoes it carried. The U.S. Navy was running short of the aircraft Mark 13 torpedoes we carried, meaning we might have to borrow some Aussie surface ship "fish."
We had received no pay in several months, our pay records were who knew where, so the Warramunga opened its ship stores, gratis, and I was allowed to get such items as toothpaste, soap, razors and other things that make life more livable. No charge.
I ate on their messdecks, with roast beef and lettuce, something I hadnít seen in many months. The destroyermen of the Allied navy were amused at my being awestruck at their food. We PT sailors had believed that everyone in the area was in the same straits as we forgotten kids. I learned of tea being drunk "black" or "white" and there was milk on that ship!
Thanksgiving 1945 on my second tour to the Pacific was spent in Manila the Philippines where I was now stationed as a Navy policeman after UDT training in Florida. The Japs had surrendered in August. We had been served a scrumptious meal with all the trimmings, just like Stateside. Now, back on patrol through the barrios and all was well. I got into a scrape with a Jap hold-out soldier, being awarded his rifle and bayonet for which he no longer had a need.
The rifle, according to my sister, was stolen when I left it for safekeeping at her home, the bayonet somehow surviving the "theft." Somewhere during our many moves the scabbard went missing, too, but the bayonet still lives with me and will be passed on to grandson, Zack.
Thanksgiving 2008 in Arizona where Marlene and I have lived now for more than ten years has seen a new tradition evolve. Barry and Kathy Johnson, two of our myriad "adopted kids" from the shooting community, have begun to arrive the day after Thanksgiving for a traditional meal of sorts. They then take care of the many tasks that old codger Jack is longer allowed to do atop a ladder or lifting heavy items or helping to arrange furniture or hang home dťcor items. After a Friday, Saturday and Sunday visit, they always return to San Diego where Barry resumes his job as a policeman for the city.
With our kids involved in their own lives in far away places, itís nice having some contact with others even if for a brief period. Our tasks for Barry this year is to change the batteries in our smoke alarms and hang the wall decorations in our new bedroom, the Bunkroom.
We can but wonder at what next Thanksgiving will bring to the Jack and Marlene team, but we know we can count on Barry and Kathy crossing the desert to visit with and assist the old folks. Itís nice to have such friends.
*************************************************************
UNCLE DAVE
*************************************************************
Once it was determined that I was not going to ride in the back seat of a Douglas SBD as an Aviation Radioman (Gunner); once the "determination" was made to send everyone whose last name began with "D" in my graduating recruit unit to attend Torpedo School in Norfolk, Virginia, a new story began to unfold.
Along with the other members of my "draft," we boarded a San Diego and Arizona Eastern train. We went from San Diego down into Mexico, weaving our way along the border to the Carrizo Gorge and on across America on a troop train pulled by steam locomotives. The train stopped at the bottom of the Royal Gorge to allow all the troops to get out, stretch legs and gawk.
Arriving at the Naval Operating Base, Norfolk, the train was met by a tiny, wizened Chief Gunnerís Mate (T) with a figure-eight knot embroidered on his lower right sleeve. That denoted his being an "Ex-Apprentice Boy," his having joined the Navy as a 12-year-old during the latter part of the 1800s. Above that was an embroidered torpedo meaning that although he wore the rating badge of a Gunnerís Mate, he really was a Torpedoman, back when that latter rating was part of the former, hence the (T) designation. His left sleeve bore eleven hashmarks announcing that he had served for more than 44 years.
He wore ribbons representing service in the Spanish-American War of 1998, the World War 1 Victory Medal, two Haitian Campaigns, plus Nicaragua. His face and arms were peppered with bluish splotches that we were to learn were caused by black powder explosions.
Chief Davis almost immediately became Uncle Dave and was to be our surrogate father and lead instructor during the three months in which he would turn us from teenagers into U.S. Navy Torpedomen. We would become the mechanics who were to maintain, repair and fire these ancient, slow, underwater, self-guided missiles. As we learned about these old left-over Mark VIII torpedoes from World War One, the triple-barreled tubes from which they were launched and the various machine guns, Uncle Dave was turning us into sailors. Graduates of the school were specifically trained to man the then-new destroyer-escorts built to fight the German U-Boats.
The avuncular and affable Uncle Dave became the role model of all of us.
After three months of school and graduating among the top three of my class, I was promoted from Seaman Second Class, directly to Torpedoman Third Class, skipping the rating of Seaman First Class. Not only that, but I got to choose my next assignment, for real this time.
I could opt for Motor Torpedo Boat School, Submarine School or a sea assignment to the stodgy destroyer-escorts. I took the PT Boats, a choice I never regretted. There was some flap about PT Boat volunteers having to be 21-years-old because the PTs were "expendable," of course. While I was only 17, that age rumor proved incorrect, and off I went to Melville, Rhode Island, to learn to crew mosquito boats, never to see or hear from Uncle Dave, again.
Why didnít I write to him? No answer. I would have loved for him to know that I had gone on to earn 10 hashmarks myself. Had become a Gunnerís Mate, too, then gone on to have a fun career in the best part of the Navy . . . Special Warfare, an unknown arm back then.
Uncle Dave remains special to me. He gave me the push to get started.
*************************************************************
PT-62 SUFFERS MORTAL WOUND
*************************************************************
It was the summer of 1944. The seventy-seven foot Elco motor torpedo boat, hull number 62, had been built in Bayonne, New Jersey, in 1941. She had seen hard service Stateside, around the Panama Canal and in the Solomon Islands. Originally assigned to the training squadron, MTB Ron 4, she had been reassigned as a replacement boat for Ron 5 along with her sisters, the PT-63, PT-64, PT-65, plus the much-newer eighty-foot Elcos, PT 318 and 319. Ron 5 was originally commissioned with twelve of the brand-new PT-103 Class of boats . . . the PT-103 through PT-114.
Ransom Widener and I put in a joint request slip to Squadron Executive Officer LT Samuel A. Pond to swap boats; a transfer from the 103 to the 62 for me would be for both esthetic and personal reasons. Rans would take my place on the 103. The PT-62 was said to be the fastest boat in the South Pacific Theater of Operations at forty-eight knots over a measured mile with a full war load off Stirling Island, according to her proud motor macs or engineers. Although I thought all Elcos to be beautiful, I considered the classic 77-footers to be the prettiest of them all. While the twin turrets were not conducive to the best fighting configuration, they did present a sleek, streamlined picture. And, then, too, the new skipper of the Three Boat seemed to me to want to avoid going into harmís way. In my opinion, he was never one to go out of his way to pick a fight with the Japs.
As I recall it was June 7, that would be D-Day in the European Theater, because we were on the other side of the International Dateline. We were slowly chasing a Jap barge (which I never did spot) from eastward of Stephan Strait, separating New Ireland from the smaller New Hanover near the big Jap base of Kavieng. Stephan Strait was named for Doctor Emil Stephan, the German administrator from pre-World War I days when the area was under German colonial rule.
The PT-319 was leading us as a two-boat section when we got to be too tempting a target for the six-inch shore battery guarding the harbor at Kavieng. We had "hitchhikers" along with us, two of Joe Fossí Marine airmen from Emirau who wanted to experience a PT Boat patrol. They werenít feeling too well due to the twenty-foot seas we were tobogganing in. Huddled aft, just forward of our stern 40mm Bofors gun, they were wet, cold, and their faces an interesting shade of green.
It had been a long, rough and negative patrol out of Emirau and it would soon be time to head for home. PT boats did not want to be caught out in daylight with their 3/4-inch "plywood armor." With the seas being so rough, the Japs were evidently hunkered down, so when the barge was reported, it would give us a positive contact if we could sink it after a long night of futility.
However, it was too near dawn! As throughout the Tropics, "dawn comes up like thunder," even if China was not across the bay, to be slightly Kipling-esque. We were just within range of that damned six-incher that was beginning to let us know we were not welcome. No sweat! Weíll just turn tail and run.
Roger Nelson, the skipper, and Vince Marin, the X.O., were in the cockpit and firewalled the three big Packard V-12 engines. The motor mac in the engine room, Blickle, later said we were doing an estimated forty-five knots in those twenty-foot swells. Riding atop the starboard engine where the engineer stood watch, it must have felt to him like riding a wild, bucking bronco.
The PT-319 radioed us that we were coming clear out of the water. Somewhat slower and without our flat bottom and hard chine, the 319's V-hull was slicing the waves nicely. I vividly recall standing on the port side of the cockpit, hanging on to a handrail with my knees bent to absorb the shock. After taking a terrific pounding for several minutes, we slowed some, but the engine room did not reply to the cockpitís signals.
Roger Nelson told me, "Go back and check on Blickle. Heís not responding to my signals."
Holding on to the superstructure handrails, I worked my way aft to the engine room hatch. I stuck my head down into that infernal bedlam of "white noise," Blickle looked up and pointed to the water up over the floorboards. We could use only hand signals with the roar of those three big 1,350 horsepower unmuffled engines filling the space.
Yelling at the Marine hitchhikers to secure their kapok life jackets, that we were sinking, I pulled myself hand-over-hand back to the cockpit along the safety handrail and made my report. The entire crew was jubilant when the word was passed that as survivors we would be sent home to await the building of a brand-new boat. I donít remember who started that rumor. The poor miserable, wet Marines were not amused that we sailors were celebrating a sinking . . . our own! Their faces took on an even more interesting shade of green.
We did manage to limp back into Homestead Lagoon at Emirau, but we had only about six-inches of freeboard aft with the mufflers under water. The engines died as the twin-ignition systems were submerged. A utility boat towed us on into the harbor and up to a drydock. Alas, the water was too shallow for the drydock to sink low enough for us to get on the chocks and it had to be repositioned. Finally, drydocked, the water drained from the chine between the frames - the bottom along the chine had been loosened in the old girl due to the weight of the engines pounding against it.
Seabees came down to try patching her with white lead, canvas and mahogany planking, but her original frame wood was too rotten for new screws to hold and she was finished as a fighting man-of-war. It was sad to see such a beautiful machine die, but she had made her last patrol. There was no time to mourn and I did get a new boat; but it was another Ron 5 boat.
Vince Marin took over as skipper of the PT-318 and I went along as his torpedoman for the rest of my time as a crewman in the Asiatic-Pacific Theater of Operations. The 318 was dubbed the "Showboat." The interior was gloss white with crimson red "woodwork" or trim, all the enlisted menís bunks sported officerís blue and white striped bedspreads, the aluminum deck plates were kept steel-wooled and the whole crew took pride in keeping things shipshape and shiny.
In late November or perhaps it was early December, Ron 5 departed Emirau along with Ron 11 bound for Mios Woendi in the Schouten Islands in the Dutch East Indies via Manus. At Manus in the Admiralties, we picked up the USS Cyrene, a PT boat tender, acting as her escort across the open seas to Hollandia in what is now Papua New Guinea. A squadron and a half of PTs spread out surrounding the big ship presented a beautiful sight, the white water of their wakes painted against the deep blue of the South Pacific Seas.
Our Ron 5 was decommissioned on February 15, 1945 after the PT-108 ran up on a reef entering Mios Woendi during a training exercise for her new crew. We could see that the 8-boatís screws were up in her lazarette after she was in drydock. It was time to decommission the squadron and scatter her boats among other squadrons which had lost PTs.
So, beached after training a new crew on the 318, I awaited orders home. I waited while others who had come to the area after I did were long-gone. And I waited, kept busy by those in charge, I was assigned to filling 55-gallon drums with sand to build a sea wall, and I waited. I shoveled sand against the tide and waited. My orders home were finally discovered awaiting me up at Morotai, where I was never sent.
I finally returned Stateside to become a Navy frogman, but what an ignominious ending to my first warfighting deployment; shoveling sand against the tide.
What an ignominious end to the PT-62, beaten to death by the sea she had so valiantly and faithfully challenged far, far from the land of her birth.
*************************************************************
MINORITIES?
*************************************************************
I was asked once about Hispanics in World War II. My response was that there were none; we were all Americans. Some had funny-sounding names like the East Bakersfield Hi class clown, Florencio (Frenchie-o) Valenzuela, or the ravishingly beautiful and petite Class of í41 Inez Cardoza but I had never categorized them.
Now, years after that query, I have been wondering! Did we have minorities among the PT Boat sailors?
I remember one nice kid on the PT106, a Gunnerís Mate named - was it Wing? He was Chinese, he was from, as I recall, Chicago, so what? We had all kinds of Asian friends in high school; Japanese, Chinese and Iím sure there might have been a Filipino or two among the mix. They werenít minorities, they were classmates.
While I donít remember ever having to visit "Officerís Country," that segregated area set aside at every PT Boat Base for commissioned officers, they must have had Stewardís Mates to serve them.
Let me explain: Except when we were operating on our own without a Base or even our own squadron base force, officers had a separate mess on shore. The cooks assigned to the boats could then switch from being gunners and concentrate on feeding the crew when we were the tip of the spear.
The enlisted rating of Shipís Cooks lovingly called Belly-Robbers or Stew Burners prepared whatever slumgullion they could put together for the enlisted men who ate in the mess tent, mess hall or whatever served that purpose.
Officers ate at the Officersí Mess with their food prepared by black or Asian men with the rating of Stewardís Mates, yet, I donít - canít bring up a single memory - recall ever seeing a black, Filipino or Chamorro at any PT Boat Base or in a squadron base force.
Now, Iíll admit that my early wartime service was in a grossly uncivilized part of the world without all the traditional amenities, but were there any blacks or Asians among the PT Boaters?
I honestly do not know! Does anyone else remember?
Or maybe there was nothing remarkable about seeing just another American sailor in the days before "diversity." E Pluribus Unum, you think?